Editor's note: Alena explains how remote patient monitoring solutions can help improve medical staff performance, avoid routine visits, and increase the quality of care. If you are interested in implementing an effective remote patient monitoring system, check ScienceSoft's offering in software for medical devices.
Already in 2018, the popularity of remote patient monitoring (RPM) solutions was high, and the RPM market was forecasted to grow to $31 billion by 2023. But in view of COVID-19, I see that this process accelerates even more as many healthcare providers opt for remote patient monitoring in addition to in-hospital smart patient tracking systems to deliver technology-driven care outside of clinical settings as well. Let's investigate what can make an RPM solution a great option for you to achieve a higher quality of healthcare services.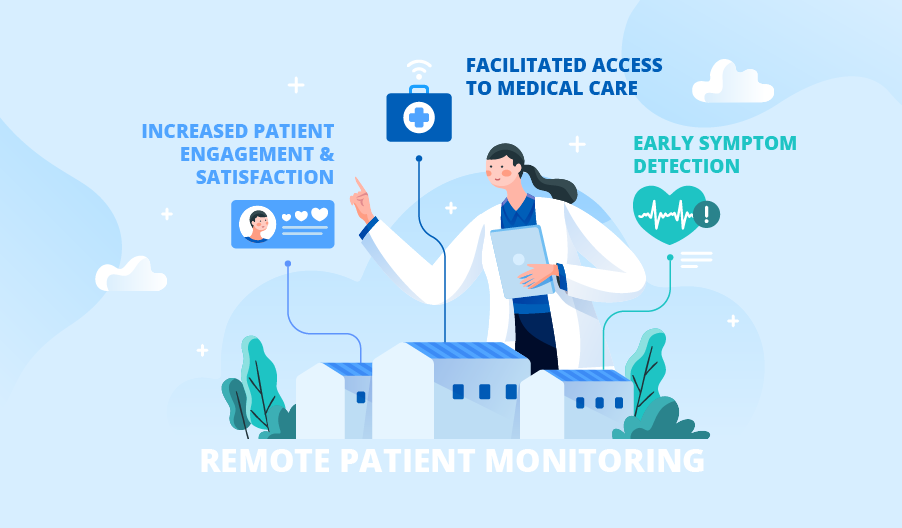 In most cases, RPM solutions are built on the base of a cloud application. Connected medical devices or wearable biosensors collect physiological data (for example, body temperature, blood pressure, pulse, blood glucose, etc.) or a patient's location data (for people with mental illnesses) and send it to a cloud app to be stored and analyzed. The collected and analyzed information is available for authorized users via patient and hospital mobile/web apps, which are connected to the cloud application. Also, the monitored patient data automatically goes to internal healthcare systems like EHR/EMR and HIS. Check out our demo of a telemedicine app with RPM to see how it works from a physician's perspective.
When working with healthcare organizations that require an RPM solution, I usually start with describing to them available RPM options:
Custom RPM solutions. A custom solution can meet all your needs in terms of functionality, but its development takes a relatively long time and requires significant investments. As my practice shows, these disadvantages can be mitigated with the help of the Agile approach to software development.
RPM platforms. You can start using a ready-made solution much faster, but there is a small chance that its out-of-the-box functionality will fully cover your needs. Thus, you may need to customize it in addition to integrating with your internal systems (EHR, HMS, etc.).
RPM solutions from a medical device vendor. Some manufacturers of medical devices provide their own RPM platforms. Usually, such solutions work well with the devices of this particular medical device vendor but do not work (or work with limited capabilities) with devices of other producers. In such a situation, you have to opt for medical devices of one brand, which can be very expensive. And opting for a more cost-effective offering of a smaller medical device vendor, you risk having a limited variety of devices, limited functionality, and limited integration capabilities. And with an RPM platform from a specialized device vendor, it will be extremely difficult to expand your range of medical services.
As my practice shows, an RPM solution can bring the following benefits to your patients and your healthcare organization.
Facilitated access to medical care
A regular visit to the doctor for a routine check-up can be rather a quest for many people: the elderly, people with disabilities, patients from rural areas, post-surgical patients. Remote patient monitoring technology allows getting the necessary medical services without visiting care facilities, reducing the number of routine check-ups, and freeing up the time for doctors to help patients who need their personal presence. An RPM solution provides e-visit functionality with the help of wireless medical devices, chatbots, and wearable biosensors to examine patients outside of clinical settings.
Early symptom detection
With an RPM solution, healthcare providers continuously receive real-time patient health data. The solution monitors physiological parameters and provides relevant information about the disease or injury progression. This information can help you tune the treatment process, prevent possible epiphenomena, and avoid emergencies in chronic care management. For example, you can control a patient's response to prescribed medication and timely change the treatment plan if needed. Moreover, early symptom detection with RPM can help reduce emergency room utilization and readmission rate. Thus, using remote patient monitoring technology, the University of Pittsburgh Medical Center reduced hospital readmissions by 76%.
Increased patient engagement and satisfaction
With remote monitoring, patients feel confident in their successful recovery even outside of clinical settings as they understand that their health conditions are monitored 24/7. Also, patients can actively take part in the treatment process by using notifications related to the course of their treatment plan. And recent studies prove that RPM software can increase patient satisfaction rates. For example, 25% of surveyed healthcare organizations noted improvement in patient satisfaction rates after deployment of remote patient monitoring technology.
The provision of telehealth services is well-regulated with CMS (Centers for Medicare & Medicaid Services), ensuring healthcare providers' reimbursement for remote patient monitoring. For example, with CPT code 99453, you can get reimbursement for providing patients with medical equipment (initial setup) and educating them on how to use it (average payment is about $25). Every 30 days of supplying a device can be billed with CPT code 99454 (average payment is about $80). Then, you can provide telehealth services using CPT code 99457 that ensures reimbursement for 20 minutes per month of remote monitoring of physiologic parameters and live interactive communication, and CPT code 99458 covers additional 20 minutes per month (average payment is about $60).
At the moment, it is difficult to overestimate the importance of RPM technology for telehealth services and, I believe, the efforts and investments for implementing an RPM solution are completely worth it. At ScienceSoft, we are always happy to support healthcare organizations in providing better care with software technology. If you need any help with the choice or implementation of your RPM solution, feel free to drop a line to my team.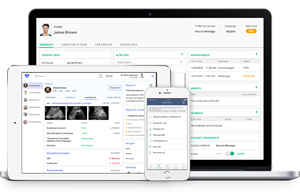 Looking for a solution to your healthcare IT challenge? Our experienced healthcare consultants are here to help.