EHR and EMR Software Development
EHR and EMR software development implies designing, developing, and evolving an electronic health records system that can be integrated with a patient app, practice management system, etc. In healthcare IT since 2005, ScienceSoft creates tailored EHR and EMR software within feasible time and budget.
Want to Succeed in the Market with EHR?
ScienceSoft is ready to help you get a HIPAA-compliant and technically advanced EHR system that will be financially feasible.
ScienceSoft Is a Leader in Healthcare IT Services Market in 2022 SPARK Matrix
ScienceSoft is featured as a leading healthcare IT services provider, along with Athena Health and Oracle Cerner. This achievement is a result of 17 years of tireless pursuit of technological innovation, made possible by ScienceSoft's passionate team of healthcare IT experts who always strive to make a difference for patients and caregivers alike.
ScienceSoft's healthcare IT team can evolve the existing EHR system or develop EHR software with the needed set of features and add unique functionality.
Cloud multi-tenant or on-premises EHR.
UX/UI tailored to doctors' and nurses' convenience and EHR usability
General features (for hospital, physician practice, etc.) or features tailored to a medical specialty (e.g., rehabilitation, psychiatry, otolaryngology, urology).
HIPAA-compliance features (e.g., end-to-end data encryption).
Desktop, tablet, mobile compatibility.
Voice assistance.
Dictation.
Handwriting and image recognition.
Medication prescription assistance.
Advanced clinical decision support (e.g., on treatment planning).
Knowledge base.
Practice management.
Revenue cycle management (RCM).
Patient portal and app (for visit scheduling, appointment reminders, etc.).
Patient communication and telemedicine.
Chronic disease management.
Remote patient monitoring via smart connected medical device integration.
HIE integration.
Billing and claims management.
E-prescribing.
DICOM viewer.
Medical inventory management.
Financial analytics (e.g., for financial fraud detection, financial risk management).
Operational analytics (e.g., staff schedules optimization, claims management).
Patients' health data analytics (e.g., lab tests, vitals, medical images).

Predictive analytics supporting disease prevention and population health management.
Tenant management and technical features
Secure HIPAA-compliant cloud (AWS or Azure).
Tenant self-registration.
Trial period.
User management by tenant via user roles.
Tenant billing.
Customization capabilities for each tenant.
Data leak protection (DLP).
33 years in the IT market.
Working experience with healthcare standards (e.g., HL7, FHIR, ICD-10, CPT, XDS/XDS-I).
17 years in the healthcare IT industry.
Rich experience in developing software compliant with HIPAA, HITECH, ONC, MACRA, MIPS, CEHRT, SAFER.
Research-based UX and UI design aimed at users' convenience.
Experience with the standards of National Council for Prescription Drug Programs (NCPDP) concerning electronic information exchange (e.g., NCPDP D.0).
ISO 27001, ISO 13485, and ISO 9001 certificates proving our focus on data security, medical devices regulatory compliance, and quality management.
ScienceSoft's RPM solution won the Best Healthcare Technology Solution Award 2022 from Health Tech Digital.
When developing EHR or EMR software, we focus on human-centric design, convenience for medical staff, software performance. The software can also be compatible with mobile devices.
We develop EHR software according to the standards on healthcare information exchange (e.g., HL7, FHIR, XDS/XDS-I) to ensure seamless communication with healthcare IT systems.
We create efficient EHRs by implementing technologies like data analytics (e.g., for diagnostic assistance), blockchain (for secure medical data exchange), AI (for medication prescription, etc.), and more.
We follow all relevant regulations and requirements (e.g., HIPAA, CEHRT, SAFER, MACRA), implement the required technical safeguards when designing EHR architecture, and conduct security testing.
EHR market entry consulting
We help you:
Design a feature set of the EHR product with a focus on healthcare workflows and patient care.
Plan high-level EHR software architecture and the tech stack for the project.
Create a business case (featuring investments, ROI, etc.).
Design user adoption strategy.
Request a consultation
Full-cycle EHR software development
We take over:
Selection of EHR type (web-based or client server-based; general or specialized).
Software architecture design.
UX/UI design.
MVP development (with core EHR features) and iterative delivery of secondary functionality.
Quality assurance.
Assistance with all relevant certifications.
Request development
We support EHR, providing:
User help desk for medical staff, EHR technicians, etc. (according to your business hours: 24/7, 12/7, 12/5, 8/5).
Security and HIPAA compliance testing of the EHR and EMR software.
Infrastructure support, maintenance, and troubleshooting.
EHR/EMR software evolution.
Request support
The Financial Times Includes ScienceSoft USA Corporation in the List of Americas' Fastest-Growing Companies 2022
ScienceSoft is one of 500 companies with the highest compound annual growth rate in revenue. This achievement is a result of our unfailing commitment to provide high-quality IT services and find best-value solutions to clients' needs.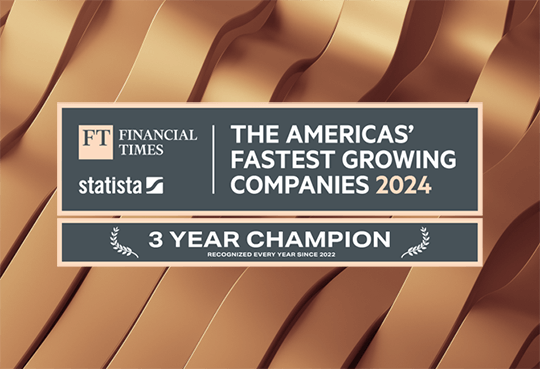 We agree on the fixed quote and EHR project scope and details. The payments are bound to the project's milestones.
We issue a monthly report on the completed EHR development tasks and charge you in accordance to the progress made. T&M model is optimal if the project scope and requirements are likely to change.
Time and Materials with a cap (T&M NTE)
As in T&M, we charge you an hourly rate of outsourced specialists for the time spent on EHR software development every month but there is a fixed maximum total charge.
EHR or EMR Delivery Timelines
To ensure fast EHR software delivery, we:
Release EHR MVP (minimum viable product) with high-priority features in 2-4 months depending on the project complexity.
Perform subsequent releases of secondary EHR features every 2-3 weeks.
Deploy minor product changes and fixes several times a day.
lower development costs due to minimized rework

faster time to market due to speedy iterative development

Let's Create Your Market-Winning EHR System!

ScienceSoft's team is ready to develop your EHR to be technologically and financially feasible in the healthcare IT market.

<![endif]--> <![endif]--> <![endif]-->