Custom Chronic Disease Management Solutions
In healthcare software development since 2005, ScienceSoft creates solutions for chronic disease management and continuous communication with patients.
Chronic disease management solutions enable systematic care delivery and help patients avoid complications and exacerbations. In healthcare software development since 2005, ScienceSoft creates solutions for chronic disease management and continuous communication with patients.
Custom chronic disease management software brings value by introducing personalized care and healthy lifestyle plans, providing tech-based disease-specific therapies (using digital therapeutics), and advanced gamification and motivation techniques.
ScienceSoft Is a Leader in Healthcare IT Services Market in 2022 SPARK Matrix
ScienceSoft is featured as a leading healthcare IT services provider, along with Athena Health and Oracle Cerner. This achievement is a result of 18 years of tireless pursuit of technological innovation, made possible by ScienceSoft's passionate team of healthcare IT experts who always strive to make a difference for patients and providers alike.
CDMS Highlights
Chronic Disease Management System
A chronic disease management system (CDMS) connects to the EHR and the mobile application on a patient's device. The CDMS enables automation of vitals monitoring, health data analysis, and alerting and processing information (by sending notifications to patients and receiving their messages). It is a central system that can be built to fit a number of chronic conditions and support particular mobile apps for each separate disease.
We offer two implementation options:
| | |
| --- | --- |
| CRM-based development on Microsoft Dynamics CRM or Salesforce | Custom solution development |
You can have a look at additional details and examples by exploring our recent article on diabetes management mHealth app concept.
Mobile Apps
We suggest developing different mobile apps for specific chronic conditions. Each disease has its own management aspects, and therefore we shouldn't settle for one common solution.
The mobile app is a key doctor-patient communication point. The app handles the inbound and outbound data flows, allowing to interact with patients in a most effective way.
Physician to Patient Data Flow
Medication intake scheme
Nutrition recommendations
Notifications on scheduled appointments, lab results, medication management and more
Instructions on improving physical activity, checking vitals, appropriate using of medications and more
Motivation elements: gamification, social media sharing, goal-setting
Patient to Physician Data Flow
Subjective: discomfort, pain, muscle spasms, headache, shiver, fever, nausea and more
Objective: temperature, blood pressure, glycose level and more
Medication intake data
We recommend to develop a cross-platform application, the Xamarin technology is an optimal choice to support patients with iOS and Android devices. Moreover, the app can connect wearables and chronic condition-related devices to include the collected observations into patient's health status overviews.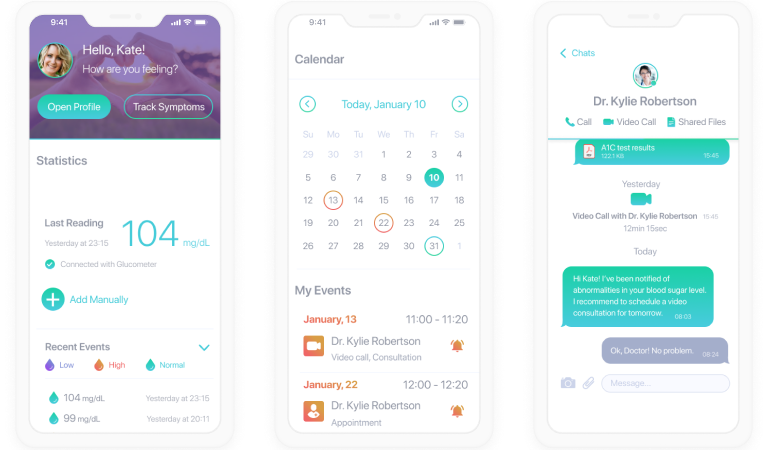 Explore Our Diabetes Patient App Demo
ScienceSoft showcases how a patient app with an intuitive interface and tailored features ensures patient engagement in the treatment process.
Data Analytics and Reporting
We create this layer to transform the scattered information particles into valuable insights, supporting the patient's chronic condition care cycle, so that physicians and CDMS could use this data further. There can be 2 implementation alternatives:
| | |
| --- | --- |
| Load data to the central clinical data warehouse and conduct analysis there | Create a dedicated chronic disease analytical system with a data warehouse, backed by OLAP cubes and visualized through reports, charts and dashboards |
The Financial Times Includes ScienceSoft USA Corporation in the List of the Americas' Fastest-Growing Companies 2023
For the second year in a row, ScienceSoft USA Corporation ranks among 500 American companies with the highest revenue growth. This achievement is the result of our unfailing commitment to provide high-quality IT services and create best-value solutions that meet and even exceed our clients' expectations.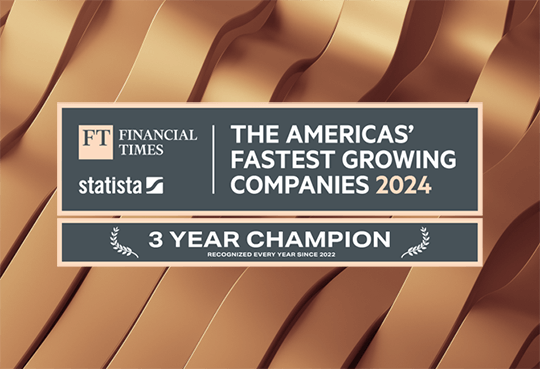 Software Logic Illustration
A physician creates a personal treatment plan in the EHR or the CDMS, according to a particular patient's health profile with comorbidities, allergies, physical activity level, nutrition habits and more.
The patient receives the treatment plan via the mobile app and follows the recommendations and instructions. The patient records and sends to the doctor their blood pressure, daily diet, sleep, mood, medication intake, etc. This data allows the CDMS to monitor the patient's health status and notify the physician or the patient about disturbing changes.
Then, the physician or system can suggest the patient scheduling an appointment to discuss the alterations in the treatment plan.
How to Develop a Chronic Disease Management App
1. Analyzing the key competitors in the chronic disease management segment.

2. Conceptualizing the app and designing a feature set for target chronic diseases.

3. Designing software requirements, architecture, and integrations (e.g., with CRM, EHR).

4. Creating a plan for compliance with HIPAA, GDPR, or MOHAP requirements on medical data privacy.

5. Designing the UX and UI of the app with a focus on the needs of patients, physicians, and nurse practitioners.

6. Iterative development and testing of the app.

7. Launching the app to the selected mobile store(s) and releasing a web panel for medical staff to the production environment.

8. If the app is considered SaMD (e.g., it features AI-based diagnostics, medication dosage calculation) and is subject to FDA 510(k), MDR, or similar regulations, it should be submitted to the authorities for clearance.

9. Handling user requests and resolving the arising tech issues, maintaining and optimizing the app performance, conducting security code reviews, and improving the app.
Frequently Asked Questions
Question #1
Can we consider something other than a mobile app?
check out the answer
Yes. In this case, we can offer you to build a medical website, although this alternative is less convenient and attractive to patients.
check out the answer
We create solutions that are fully compliant with HIPAA and HITECH, FDA policies, and other regulations. ScienceSoft's mature quality and security management systems are backed by ISO 9001, ISO 27001, and ISO 13485. Besides, we track all changes and updates in mobile health space rules to keep our software secure and reliable.
Question #3
What chronic conditions can be covered?
check out the answer
We suggest developing solutions for patients with the following conditions:
Diabetes
Asthma
Cardiovascular disease
Chronic obstructive pulmonary disease (COPD)
Behavioral disorders
All about our Healthcare IT services
<![endif]--> <![endif]--> <![endif]-->