Custom HR Software in Healthcare
Take Full Control of Medical HR Processes
With 18 years in healthcare IT, ScienceSoft implements medical HR software to help healthcare organizations streamline administrative workflows, improve employee management, and keep track of medical staff trainings.
Healthcare HR Software: The Essence
HR software for healthcare is designed to facilitate staff recruiting, onboarding, and training, ensure employee data consistency and access to self-service features. It helps medical organizations tackle staff shortage and turnover, high labor costs, win the competition for highly skilled clinicians, and more.
With custom HR software, medical organizations have a highly tailored solution that meets their unique requirements and helps create reliable clinician recruitment, onboarding, credentialing, and retention pipelines.
Medical HR solution is usually integrated with practice management software, accounting software, and nurse/physician application. The implementation costs range between $25,000 and $100,000, depending on the organization's size and software complexity.
Key Functionality for Efficient Healthcare HR Software
When designing a tailored HR software feature set, ScienceSoft's healthcare IT experts consider the business specifics and workflows of each particular organization. Below, our consultants list the features that are most frequently requested by our clients in healthcare.
Must-Have Integrations for Efficient Medical HR Software
To facilitate data consistency and maximize the efficiency of HR software for healthcare, it is important to integrate the solution with the relevant business systems. Our healthcare consultants outlined the most vital integrations for medical HR systems.
Practice management system
To ensure a single entry of medical staff workload data into a healthcare IT system, and then having this data available throughout other relevant systems.
To avoid data silos and facilitate seamless exchange of any payroll- and compensation-related employee data.
Nurse/physician application or Intranet
Medical staff can access a self-service portal and update necessary HR-related data, as well as get notified of upcoming trainings, shift changes, organizational announcements, etc.
Integrations with email, messaging apps, social media, etc. to stay in touch with the candidates and employees and keep comprehensive communication records.
How to Develop HR Software for Healthcare
1. Eliciting the healthcare organization's recruitment, onboarding, scheduling, and other needs to plan HR software.

2. Deciding on custom or platform-based development (e.g., based on Microsoft Dynamics 365 HR tools).

3. Outlining the key user roles (employee, manager, HR specialist), software requirements, features, integrations, compliance neets (with HIPAA, GDPR), etc.

4. Planning the development project, key steps, milestones, and KPIs.

5. Creating UI and UX design of the HR side and medical staff's side of the software.

6. Developing, testing, and integrating the software with CRM, practice management software, etc.

7. Conducting user acceptance testing and training for medical and administrative staff.

8. Launching, supporting, and maintaining the software.
How to Make Sure Medical HR Software Is Successful?
Firstly, I strongly recommend implementing advanced security features. This way, you will ensure sensitive data integrity, compliance with the relevant regulations, and avoid security loopholes within your organization's IT environment.
Another thing is to focus on automating your HR workflows. Our customers say it helps significantly reduce the time spent on repetitive tasks, handle employee requests faster, and make data-driven staffing decisions. On top of that, your HR staff will be able to dedicate more time and effort to creating an inclusive and healthy working environment within the organization.
A Featured Success Story by ScienceSoft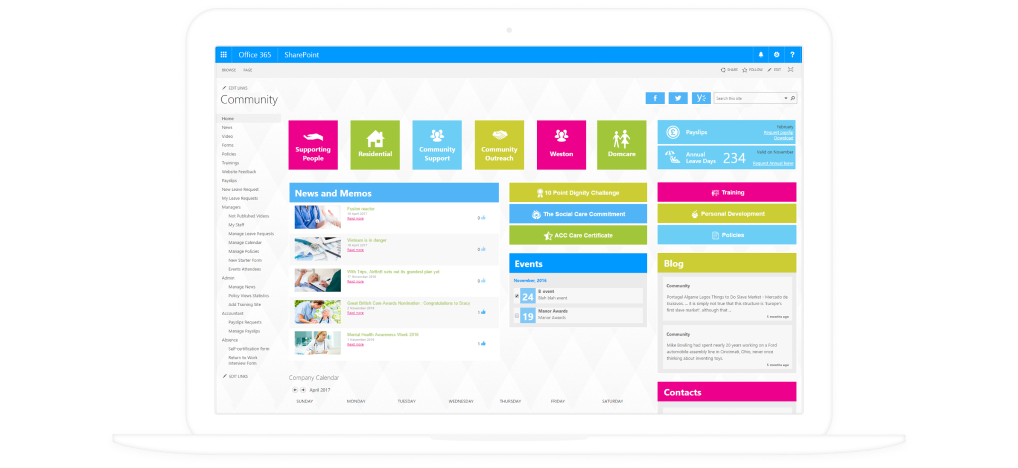 A Platform-Based HR Solution for a UK Social Care Services Provider
Challenge: The need to streamline everyday working activities of the medical staff while facilitating employee development and assessing staff performance and competencies.
Solution: A SharePoint-based solution featuring an HR module with policy management, performance checks, and employee engagement functionality. To the employees, the solution provides a training center and a mobile self-service portal.
HR Platforms We Recommend
If a healthcare organization is willing to settle for a simple HR solution without industry-specific features and/or already has legacy systems based on a certain platform (e.g., SharePoint), ScienceSoft's consultants often recommend to implement the following HR software products.
Microsoft SharePoint HRMS
Best for
Medical staff onboarding, HR document management.
Features
A comprehensive document management system with advanced search filters and results ranking.
Payroll management capabilities (work hours logging, deductions, taxes, etc.).
Real-time dashboards to track the onboarding progress, training completion, etc.
AI-powered analytics tools.
Pricing
$5–$23 user/month (depending on the plan option).
Microsoft Dynamics 365 Human Resources
Best for
Employee self-service, performance management.
Features
Administrative tasks (e.g., staff-related document management, credentialing).
Training management and planning.
Performance assessment and employee surveys.
Integration with other Microsoft tools (e.g., Power BI for comprehensive reports and dashboards, SharePoint Intranet for engagement and self-learning).
Pricing
$120 user/month for full application capabilities.
$4 user/month for employee and manager self-service capabilities.
ServiceNow® HR Service Delivery Platform
Best for
Employee self-service.
Features
Employee guides and a knowledge base for medical staff.
Ticketing of administrative tasks, ML-powered ticket prioritization.
Employee onboarding and lifecycle automation.
Intelligent chatbots for medical and administrative staff.
Pricing
Upon request to a vendor.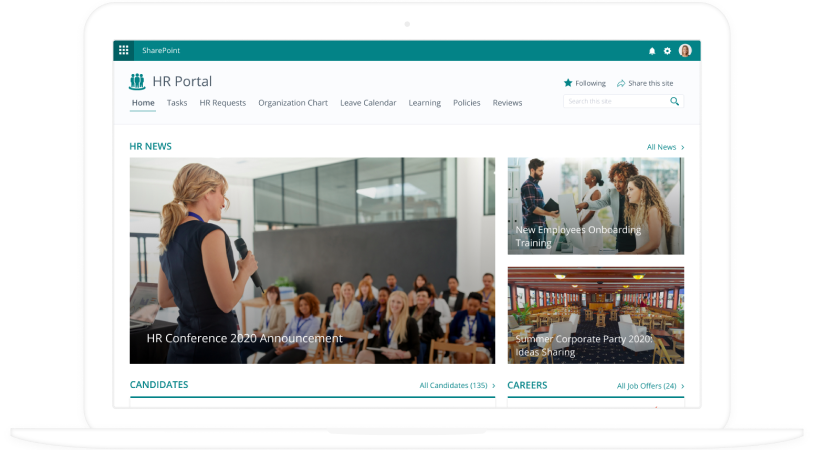 Explore a Demo of a SharePoint-Based HR Software
Full visibility into hiring and onboarding
Automated employee management
Built-in employee learning management
Is Custom Medical HR Software the Best Choice for You?
HR departments of large healthcare networks often deal with industry-specific workflows that can't be fully covered by off-the-shelf solutions. ScienceSoft recommends you consider a custom solution if you need:
An HR module in another healthcare IT system
Including HR functionality into an existing custom solution (e.g., practice management software) helps achieve data integrity, save time and resources on employee training and software support.
AI-based predictive analytics
With this advanced feature, HR staff will have access to AI-generated insights on the potential medical staff behavior, and plan corresponding HR actions (e.g., initiate nurse practitioner recruitment).
To help your team adopt new healthcare HR software easily and without extensive additional training, we offer custom software with research-based UX, simple and user-friendly UI.
How Much Does an HR Solution for Healthcare Cost?
Based on ScienceSoft's experience, the cost of medical HR software depends largely on the required functionality, an organization's size, and the complexity of its workflows. On average, the cost of healthcare HR software implementation ranges from $25,000 to $100,000.
A platform-based solution for a healthcare organization with under 1,000 employees.
A platform-based solution for a healthcare organization with 1,000-5,000 employees.
An advanced custom solution for a mid-size or large healthcare organization.
Let's Implement Robust HR Software for Your Healthcare Org!
With a track record of over 100 successful healthcare IT projects, ScienceSoft's team knows how to implement efficient medical HR software tailored to the unique needs of each particular healthcare organization.
ScienceSoft as a Reliable HR and Healthcare Software Provider
Gabrielle Ogilvie
Business Analyst & Project Manager
Squirrel
We wanted to build a central hub robust enough to handle complex Human Resources change management, streamline our recruitment, employee onboarding and offboarding. With a 20-year track record and great online reviews, we chose ScienceSoft for the job. Ultimately, they took this project to heights I never expected it to reach by incorporating the Manager edit functionality into the front-end of the employee profile system, streamlining all sides of employee life-cycle change management.
Peter Hermann
CEO
ZEITundZUTRITT GmbH
For the past 6 years, ScienceSoft has been a reliable partner in supporting and maintaining our HR software product. They keep modernizing HR on our demand, introducing new features and tweaking existing functionality to let us better cater to our growing client base. Moreover, ScienceSoft has successfully migrated our product from on-premises Microsoft Access to cloud-based Microsoft SQL Server, ensuring uninterrupted, smooth operation and high availability of HR in the new infrastructure.
Maria Zannes
President & CEO
bioAffinity Technologies
ScienceSoft has been a competent partner for medical software development. We would recommend them as a trustworthy vendor. They are reliable, thorough, smart, available, extremely good communicators and very friendly. We would recommend hiring ScienceSoft to anyone looking for a highly productive and solution-driven team. We look forward to working with them over the long-term.
View all customer reviews
About ScienceSoft

Headquartered in McKinney, Texas, ScienceSoft is an IT consulting and software development company with a track record of 100+ successful healthcare IT projects. Being a Microsoft Solutions Partner, we design and deliver powerful and secure HR solutions for organizations of various industries, including healthcare.

<![endif]--> <![endif]--> <![endif]-->