Medical Web Design & Development
Full-cycle medical website design and development services aim at creating engaging web-based platforms for hospitals, clinics, assisted living facilities, etc. For over 16 years, ScienceSoft helps health organizations build websites that facilitate smooth communication with patients.
Responsive design
Your patients are mobile, so should your website be. Step out from the desktop-only realm and make you resource a number one go-to companion regardless of device, browser or platform.
Integration with internal systems
We integrate the website with your EHR/EMR, practice management, scheduling, billing and other systems.
Content management system – to allow easy content updates and edits
We equip your website with a user-friendly content management system so that your non-tech employees won't need to call a technical specialist every time they need to post a new article.
Backend for a mobile app
Your website may also be the backend for a mobile app to help patients access their health data from devices and benefit from social media integration and push notifications.
High performance
By optimizing your website, we ensure a seamless connection between the backend and frontend. While withstanding heavy data loads, your resource will display content quickly and accurately.
Our services cover the full cycle of medical website development, including:
Business analysis;
Design;
Implementation;
HL7 integration with EHR/EMR, Hospital PMS and other systems;
Content migration;
Training for content contributors;
Maintenance.
To ensure personalized and intuitive user experience, we enrich our customers' medical websites with four key features: content personalization, patient engagement tools, embedded patient portal and web analytics.
Content personalization

Content personalization is a powerful engagement tool. Without it, a clinical resource is more like an online health brochure offering general information. Using content personalization as a patient retention technique, you can reengage the patients who visited the facility some time ago. But to go further and help you attract new patients and accelerate revenue growth, we integrate the following personal approach techniques:

Allowing patients to continue where they left off via the recently visited section;
Clinic locations search offering the closest facilities first;
Web pages with personalized promotions;
Loyalty systems with bonus points, cumulative discounts and other incentives;
Interactive features, such as diet calculators, 'slide-to-see' before and after photos, videos, charts and more.

To personalize content efficiently, the website will use patients' personal information such as:

EHR/EMR health data (handling is compliant with HIPAA rules);
Browsing history from previous entries;
Current browsing behavior;
Information about relatives.

Patient engagement tools

Patients are naturally quite passive, so it takes a lot of efforts and persistence to help them get fully involved in their well-being activities. Through an engaging website, you can offer accurate medical information in a user-friendly and caring form thanks to:

Information about staff members. Just say a few words about your physicians, nurses and other employees and attach photos to show that you are all about people, not the facility.
Online self-registration options. Offer your patients to easily check in for an appointment or schedule a walk-in visit.
Health plans guide. Inform patients about their treatment options in a transparent and comprehensive way and lessen the workload on administrative staff (no need to go through the Q&A routine anymore).
Health education. Your patients do not need to search through dubious resources to get valuable answers. Provide extensive health knowledge to show empathy and competence. Track and understand patients' points of interest better and offer more relevant content personalization.
Interactive Q&A chat. Should your website visitors have questions, you are always there to respond through an interactive chat. Use your chance to convert visitors into patients as well as strengthen the bonds with the existing clients.
Motivation elements with milestones, challenges and achievements. Assist your patients setting goals, acquiring healthy habits and getting rid of the bad ones. Displaying colorful achievement badges to greet individuals in their patient portal accounts makes a difference.
Social media integration. Help your patients share their aspirations and wins with friends and family across multiple social media.
Quizzes. Create health tests in a cute, visualized way by including gamification in the learning process.
Other custom features

Embedded patient portal

Patients want to track their health data, treatment progress and billing information. So, based on our 16-year experience in custom healthcare software development, we create these key features and make sure they are fully compliant with HIPAA, HITECH, ISO 13485, and other regulations. Our portals provide secure access to:

Appointment scheduling;
Examination results;
Diagnosis data;
Prescriptions and medication refill request forms;
E-billing;
Other custom features.

Web analytics

When filling the website with interactive and SEO content, we suggest going beyond the general analytics tools, such as Google Analytics, and gather the following metrics:

Interest in particular services;
Patient engagement level;
Personalized content effectiveness.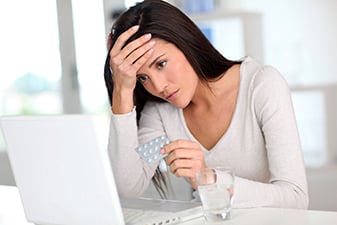 Patient Health Portal
A web resource helping patients take advice from care experts, contribute to discussions and explore numerous healthy food recipes, initiatives and opportunities.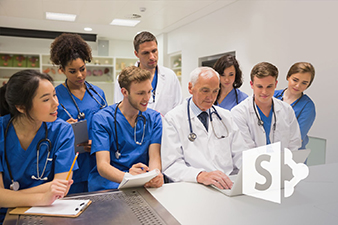 Medical Faculty Internal Portal
An internal resource with an extended retrieval system to help medical student study and research.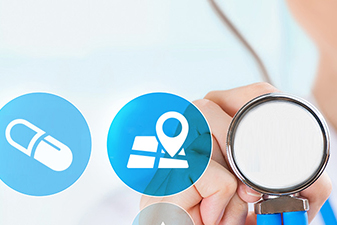 Clinic Map Website
A portal offering information on several medical organizations and allowing patients to contact health providers directly as well as schedule appointments and ask for urgent care.

Let's Discuss Your New Medical Website

We believe in the power of a personal meeting, so we encourage you to push the button and let us know about your ideas. Our medical software representatives will be there to discuss the project with you.

<![endif]--> <![endif]--> <![endif]-->