Healthcare CRM is usually positioned as a universal marketing tool for providers, but gets frequently used for other purposes. Is there a chance that healthcare reshaped the system, and it is way more than a relationship management solution now?
Grand View Research states that the global healthcare CRM market was worth $6.6 billion in 2015 and anticipates it to grow at a CAGR of 9.5% over the forecast period (2013-2025). The reasons behind the increase in CRM demand are that it's tied to the overall evolution of the healthcare IT industry, and that it's bound to emerging regulations and care delivery standards requiring providers to know their patients better and communicate with them over the entire care continuum.
While healthcare always needs more time to become familiar with workflow management technology, hospitals eagerly adopt CRMs. According to the Society for Healthcare Strategy & Market Development (SHSMD) of the American Hospital Association (AHA), 60% of US hospitals use CRMs. With that in mind, we also noticed that all our clients needed individual consulting on healthcare CRM implementation, and they wanted to employ it differently. Also, we've created healthcare CRM demo.
So we got interested in how caregivers actually use their CRM systems. Is there a certain pattern, or does each provider approach the solution in a unique way? Here's what we found.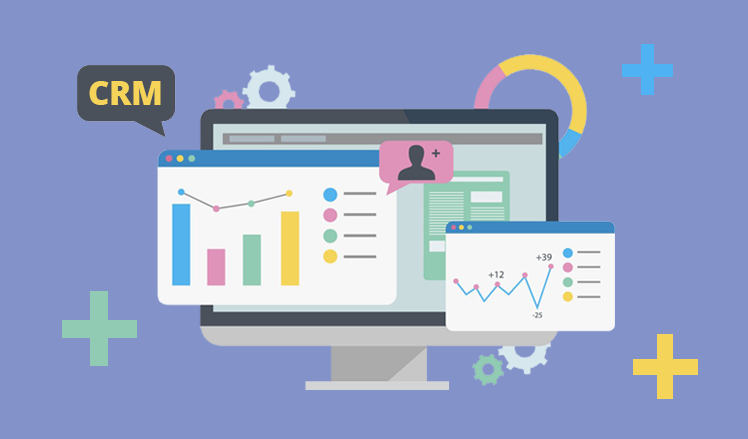 Hospitals + CRM = ?
We gathered a number of use cases from large, small and midsize hospitals as well as from outpatient centers. Overall, large caregivers apply CRM capabilities mostly in patient outreach and population health to:
Handle preventive care email marketing campaigns;
Inform patients about cancer trials;
Create a single repository to gather and sync PHI across multiple facilities;
Provide patients with post-discharge follow-ups.
Medium and small hospitals turn to CRMs for optimization of their internal processes rather than for external communication efforts, in order to:
Optimize case management;
Introduce care team collaboration;
Improve scheduling and alerts;
Monitor medical equipment.
Outpatient centers focus on interaction with patients and improvement of internal processes, in order to:
Consolidate PHI in a centralized database;
Track patient interaction activities, appointments and follow-ups;
Evaluate staff performance.
Accordingly, we can sum up frequently used or demanded CRM features:
Communication module
Scheduling;
Initiating and tracking interaction with patients (calls, emails, text messages, etc.);
Setting reminders and alerts (for appointments, important patient events, etc.);
Patient module
Adding or updating patient records with additional information (names, contacts, locations, card numbers, insurance, etc.);
Segmenting patients to target similar groups and effectively communicate with them (pregnant women, patients with COPD and obesity, patients with bladder cancer in remission, etc.).
Task module
Adding tasks for administrative staff, care team and nurses;
Viewing and updating tasks;
Tracking assigning priority, deadlines and completion status.
Report module
Creating custom reports to compare ROI from the launched campaigns, track the rate of patient no-shows, etc.
The overview of how hospitals use CRM
Use cases gave us an interesting insight. While it is natural that CRM application areas overlap between different providers, large caregivers and outpatient centers put most of their efforts into patient outreach.
The reason why large hospitals focus on patient communication via CRM might be rooted in a few factors. First, a hospital's IT infrastructure can be very complex and other systems can be used to harness the provider's other needs (case management and care team collaboration, for instance), so they use this inherently marketing tool, well, for marketing.
Another idea is that health systems are those which set trends and develop them. They are the upper crust, and they should be role models in patient engagement, preventive care and population health. Last but not least, large caregivers are first to get hit by value-based care and ACO requirements. So for the sake of quality care, shared savings and reimbursements, they need to reduce acuteness in patients and get on the preventive side as soon as possible.
Outpatient centers put interaction on the first place because of their business model. Patient visits are key to centers' functioning, so providers have to be proactive. Not that these centers will intentionally scare patients to lure them into a load of unnecessary checks, tests and procedures. No, they need to show care outside a physician's office for the sake of patient loyalty and trust.
Mid-sized and small hospitals take a different perspective on their CRMs, using them for self-improvement. This approach is noteworthy as well, as here caregivers aim to uplift care delivery within the clinical setting. They compose multi-department care teams and ensure effective collaboration with technology.
2 subtle CRM benefits for providers
We already touched upon some self-evident benefits that caregivers can get from CRM patient outreach, care team collaboration, equipment management and others. But there are two major bonuses, which medical CRMs bring in the first place.
Data security and compliance
Data protection is an age-long concern for providers. According to the 2016 healthcare data breach report, healthcare suffered 450 PHI breaches, with more than 27 million patient records stolen. 2016 turned to be the year with the highest number of breaches since 2009. Even more, the settlements for resolving alleged HIPAA violations were at record $22,855,300.
HIPAA and other compliance requirements are not easy to uphold but costly to ignore. While CRM alone isn't enough to ensure rock-solid PHI protection, it still improves overall security by encrypting sensitive data and allowing backups to restore it after a malicious attack or a force majeure.
Providers can also introduce access control so that only pre-approved health specialists would be able to retrieve particular patient information. Additionally, providers adhere to federal and state legislation and avoid financial penalties for unlawful data storage and patient information mishandling.
3 CRM adoption challenges
Every sweet has its sour, so we can't talk about benefits only. Same as any solution, CRM adoption can be challenging at some points.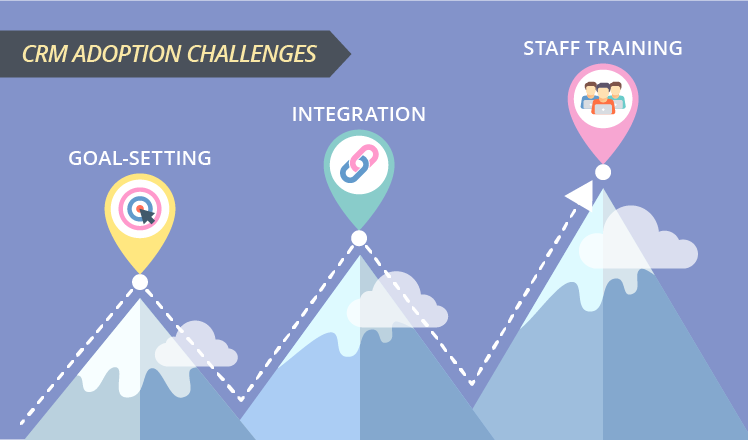 Goal-setting
Prior to deciding about investing in a healthcare CRM, providers have to clearly define the objectives to achieve through the system, including specific milestones and measurable metrics. In other case, caregivers can find themselves getting an absolutely useless and uber-pricy system.
The reason is that by not being able to select and name specific goals, providers will tend to invest into features, and CRM is all about unlimited features available. Vendors, in their turn, are proficient in selling features to cover universal needs. Therefore, caregivers can spend a pretty penny on tools they won't use.
Integration
CRM will work out for a healthcare organization if it seamlessly integrates with all other systems in the infrastructure. Which is certainly not a piece of cake, by the way. Healthcare CRM isn't the main data source, and it needs a connection to multiple applications to bring value.
Many healthcare vendors have strict policies regarding data access and don't allow integration, fully or to some part, especially when it comes to such systems as EHR. Therefore, caregivers need to provide their vendor with an IT infrastructure map to ensure integration from the very beginning. In case caregivers have purchased multiple systems from different vendors, they might have to establish communication with all of them to ascertain collaboration and effective integration between the systems and the healthcare CRM.
There's also the PHI retrieval challenge, rooted in a contradiction between allowing the CRM to automatically centralize data and create a full copy of fetching data, or to process patient information from a separate system on demand. Providers need to discuss both options with their vendor's CRM consulting team and find a compromise between time to respond and security.
Staff training
Most of the health specialists are too busy to be enthusiastic about yet another system to understand and include in their daily routine. So, clinical stakeholders will need to tackle the challenge and streamline staff adaptation to the new solution. This means that clinical workflows need to be adjusted to include CRM as one of the default tools, not an optional 'see-if-interested' application.
The CRM futurism
Artificial intelligence is everywhere right now, and CRMs will eventually get AI upgrades as well. Becker's Hospital Review have recently published an announcement of IBM and Salesforce entering partnership to align their AI platforms and level up customer engagement in healthcare, weather and financial services.
Artificial intelligence will analyze a mountain of automated data collected by a healthcare CRM, including patient-generated health data, emails, schedules, etc. It will run machine learning and predictive analytics algorithms with NLP to offer multiple insights, recommendations and predictions on marketing campaigns, interaction with patients and team collaboration.
But let's hold our excitement for at least one year, we don't expect any AI-powered healthcare CRMs get broadly available until 2018 at the earliest. The reason is on the surface it will take a significant time to create an artificial intelligence product and test it out, especially in the case of combining two AI platforms.
In healthcare, CRM is bigger now
Somehow, providers managed to transform the relationship management application into a new system capable of becoming anything caregiver would desire from collaboration and billing to performance evaluation and equipment tracking.
Our consultants say that this is just how healthcare CRM works. It is a bottomless box with an infinite number of alternative tools, which can be configured the way user wants and needs it. Caregivers will just have to make a wish, and they are clearly wishing for internal and external optimization through multiple processes. Hopefully, more wishes are to come true when CRM will enter the AI era.
Check healthcare CRM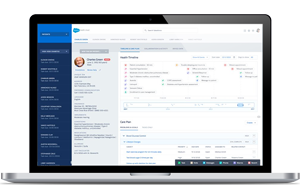 Healthcare CRM Software by ScienceSoft
Ready to enter the patient-centric era with a dedicated CRM on your side? Take a deeper look at its capabilities and practical benefits for you.