Editor's note: Alena Nikuliak explains why billing software is a vital instrument for a medical lab and describes how our customers solved their lab challenges with the help of this software. Read on to find out the details, and don't hesitate to explore our medical software development page.
As a healthcare IT consultant, I've often seen customers asking for laboratory information management systems (LIMS) and lab inventory management systems, the benefits of which I overviewed in my previous article, as they are the most popular types of medical software for labs. In such cases, I explain that these systems' functionality alone will not be enough to take care of a lab's financial health. And, as a rule, I recommend considering custom billing systems as a measure to take lab finances under control.
Summarizing ScienceSoft's 15-year experience of developing and implementing lab management and medical billing solutions, I share with you an overview of three challenges that our customers solved with lab billing systems.
Billing errors and insufficient reimbursements
Medical billing errors can cause huge financial losses. Besides the fact that every mistake in a bill leads to lower reimbursement, laboratories have to wait for a very long period to receive them.
That's why I suggest opting for lab billing software to reduce the chances of errors to a minimum. With this software, you enter patient data once, and the system automatically checks for errors at each stage of the billing process. And smooth billing processes mean steady flows of reimbursements.
Missing financial analytics
Like any other business, laboratories need financial analytics to see what is working well and what needs to be improved. Lab billing apps allow generating and scheduling financial reports to check the financial state of your lab, verify the accuracy of financial statement information, as well as analyze and assess your lab's growth opportunities.
However, large laboratories usually need more than these standard analytical capabilities. When this is the case with our customers, I advise integrating a lab billing app with a BI solution. Just like that, ScienceSoft's BI implementation experts have implemented a financial analytics solution in a healthcare organization to help them get good use of their billing data to analyze and optimize their managerial and operational processes.
Lacking financial transparency for the lab's customers
It is becoming increasingly important for modern lab customers to have access to their laboratory data and results. Still, not many labs can achieve a sufficient level of financial transparency for customers. With a lab billing system, you can give your customers the possibility to compile their own financial reports if they want to, whenever they want to, in addition to the reports provided by your lab and make your lab more transparent. You may encourage your lab's clients to view their claims, reimbursements, explanations of benefits (EOBs) as well as any other statistics they may want to see at any time and any place via a HIPAA-compliant customer portal.
Keep your lab competitive!
My practice as a healthcare IT consultant often shows that information management systems and inventory management systems for laboratories steal the spotlight from lab billing software, which is why the latter is underestimated. Personally, I am convinced that billing systems are essential to ensure the financial health of a laboratory.
Of course, there're a number of ready-made products available on the market that can be seemingly cheaper and quicker to implement than a custom billing solution. However, I can tell that oftentimes, going for them would mean substantially changing or replacing the entire LIMS, or heavily customizing the product. And from my experience, in most cases, such endeavors exceed custom development in terms of costs and duration. If you'd like to know if a custom billing software will be a feasible choice for you, my colleagues from the healthcare development team and I will be glad to help, just let us know.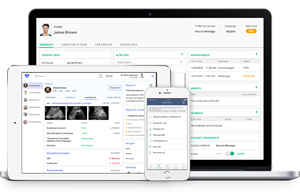 Looking for a solution to your healthcare IT challenge? Our experienced healthcare consultants are here to help.