Some providers still question using CRM in healthcare as they doubt it is appropriate to use a salespeople's go-to tool in care delivery. However, the healthcare CRM concept is far from sales automation: it is about knowing your patients and their needs. By adopting healthcare CRM, caregivers can tap into advanced patient health profiling and segmentation.
As the efficiency of patient health profiling highly depends on information to be processed by CRM, its integration with EHR is a must. Integration will also allow to automatically keep the segmentation up-to-date.
Key criteria for patient segmentation in CRM
Patient segmentation helps define narrow groups based on set rules and use a healthcare CRM to send personalized information to patients.
Note: In our concept, all the groups of criteria are equal. They can be used together or separately, and in different combinations. This way, providers can go with wider segments or narrow down their target patient group. Now, let's review the suggested groups.
Health groups
We built the following patient taxonomy upon the idea of 3 risk-based patient groups (high-risk, low-risk and rising-risk). It allows providers to decide on a target patient segment and then drill it down to highlight the opportunities for advanced care delivery.
First group
This group includes 2 types of patients:
individuals without chronic diseases (pathologic conditions) and risk factors to develop any
patients without chronic diseases (pathologic conditions) but with low or average risk factors to develop any
These patients need to receive preventive care in ambulatory conditions to address the risk factors.
Second group
Patients within this segment don't have any chronic disease or pathologic condition yet. However, they have high-risk factors to develop any disease or primary symptoms of a pathology.
Such patients may need to receive preventive care in the ambulatory / inpatient setting, including treatment with medications. Systematic medical supervision and screening are desirable in the future.
Third group
The following types of patients fall into the 3rd category:
patients diagnosed with any of the chronic diseases (conditions) that require systematic supervision and specialty medical care
individuals with a suspected chronic disease (condition) that requires further examination (upon determining the diagnosis, such a patient's group can be changed)
These two types are under the highest risks to develop complications leading to disabilities and premature deaths. Consequently, such patients will most likely need inpatient care, including treatment plans supported by medications and rehabilitative care. Systematic medical supervision and screening are possible as well.
Sex / Age
The following structure of basic demographics is built by revising the Piaget stages of intellectual development, Erikson's stages of human development as well as Carl Jung's and Daniel Levinson's theories altogether. We used multiple sources to create the criteria that will not only reflect both psychological and physical development, but also allow caregivers to narrow down the patient segments to work with.
Children and teenagers:
Girl / Boy:
Adults:
Woman / Man:
Appointment frequency
This classification is created to achieve a number of patient analytics goals, such as
highlighting both satisfied and dissatisfied patients, and
identifying the patients with acute cases only, who discontinued using a particular provider's services once the care cycle was completed.
Other criteria below also contribute to this segmentation to some extent. However, only 'appointment frequency' allows to find those patients who weren't engaged during the care process and to act on gaining their loyalty.
Rare: a single appointment can range from a single appointment in the past 6 months to a single appointment in the past 12 or 36 months, depending on a caregiver
Acute cases: 2-5 acute appointments related to one primary condition / disease in the past 6 months, 12 months or 36 months, depending on a caregiver
Regular: 2-5 appointments related to a chronic disease / pathology / condition in the past month, 3 months or 6 months depending on a particular caregiver)
Health risks
Infant health risks
We aim this classification at providers who are focused on enhancing their prenatal and birth care. The criteria are based on CDC's and PRB's maternal and infant health materials that highlight the importance of addressing the problem of perinatal and infant mortality.
Intranatal
Perinatal
Neonatal
Newborn development - possible to introduce a range from 1 to 10 according to an infant's development in the following domains:

Feeding / nutrition
Physical development
Psychomotor development
Children, teenagers and adult health risks
This classification addresses caregivers' focus on preventive care and strong need to monitor their patients with certain health risks. We used the global health risks report as well as CDC's Prevention Status Reports for reference and guidance.
High blood pressure
High cholesterol
Smoking
High blood glucose
Physical inactivity
Overweight and obesity
Alcohol consumption
Sexual preferences
Genetic
Professional (stress, depression)
Environment
Cardiovascular event risks according to the WHO prediction charts:

Low (<10%; 10% to <20%)
Medium (20% to <30%; 30% to <40%)
High (> 40%)
Allergies
These criteria are composed of common allergies, allowing providers to single out patients with one or multiple allergies.
Food
Pollen
Medications
Dust
Pets
Insect sting
Mold
Latex and more
Therapeutic departments
This is only a sample of therapeutic departments within a health organization to be tailored to particular caregivers. The patient segment can be filtered down to a certain department or a number of departments at once. If, for example, there is a necessity to target patients with diabetes and visual impairment, then endocrinology and ophthalmology are chosen for analysis.
These criteria don't target patients that are fully recovered, for example, individuals with a broken leg healed.
Endocrinology
Gastroenterology
Nephrology
Neurology
ENT
Ophthalmology
Cardiology and more
Disease status
Providers can either combine the 'disease status' with 'therapeutic departments' criteria sets or use them separately. This particular set consists of multiple dimensions. To create it, we used the general qualities that are not necessarily sufficient for the clinical-only purpose, yet they allow a quite narrow segmentation of patient health profiles.
Disease status:
acute
subacute
chronic (each section can be drilled down to specific conditions, pathologies, disorders, etc.)
Comorbidities:
yes (can be filtered to a list of particular diseases)
no
Outcomes:
complications / exacerbations (can be filtered to a particular negative outcome)
Disabilities:
yes (can be filtered to a specific disability)
no
The need for systematic supervision:
yes (then the list of exact supervision types, e.g. regular follow-up appointments or home care, can be provided)
no
Post-segmentation: Use cases
For example, a healthcare organization wants to offer a personalized discount for their one-time and rare patients from the ophthalmology department. They will only need to:
select the appointment history (rare and possible to filter back to the past 6 months)
pick the department (ophthalmology)
Then, the health specialists can send the segmented patients an email, a push notification inside their mHealth patient app, a text message, or give a call to offer them a discount.
Next, a caregiver finds out that they have a significant amount of patients with pollen allergy. When the spring is approaching, the provider can choose all their patients with the allergy, remind them to take care during this period and refill their prescription if needed. This will definitely help this caregiver to win a few bonus patient loyalty points.
Another provider focuses on maternity care services. They can work with an 'infant health risks' criteria group to define the mothers-to-be that need a special approach. As pregnant women with average and high health risks need to see their doctor more often, the provider can send them a personalized follow-up message. It can be a delicate concern about their wellbeing supported with short nutrition and activity tips. Of course, a discount on a prenatal massage or special yoga classes can also help to effectively reach out to this group of patients.
Assembling the puzzle
Having tons of data is a questionable benefit if it is unstructured. To identify the levers to pull for most effective results in communication with patients, every bit of information has to bring insights.
While EHR helps to tap into individual patients' data, an EHR-integrated CRM allows bringing all patients' details into this multifaceted puzzle (click here to see how it works). By twisting and turning the criteria as well as by dividing and combining segments, caregivers can highlight one, two and more patient groups that can and should be targeted with relevant services.
And after the segmentation algorithm is up and running, CRM comes in handy again by giving providers an access to all their patient communication channels at once. So once a caregiver decides on target segments, they can act immediately.
Check healthcare CRM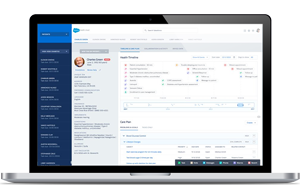 Healthcare CRM Software by ScienceSoft
Ready to enter the patient-centric era with a dedicated CRM on your side? Take a deeper look at its capabilities and practical benefits for you.