Editor's note: Customer service software helps hospital staff save time, allows patients to receive prompt help and reduces the number of visits that can be avoided. If you'd like to achieve these benefits, ScienceSoft's customer service consultants would be glad to help.
Now that healthcare costs grow, new players enter the market of customer service in hospitals and customers' expectations of the healthcare services rise, efficient and well-coordinated customer service becomes a must for healthcare organizations to stay competitive. After all, losing a patient due to service dissatisfaction can result in $200,000 revenue loss over the lifetime of a healthcare practice.
Customer service in the medical field mostly boils down to the patient experience when dealing with a healthcare provider. It starts when a patient learns about your practice via marketing materials, website, or social media and expands through all their interactions with your healthcare facility. So, you should ensure that each touchpoint gives a reason for your patients to continue getting healthcare services from you. Here are 3 tips on how to improve customer service in hospitals and healthcare practices, along with examples.
Technology to support the end-to-end customer experience
Technology can facilitate or expedite the majority of customer-related administrative tasks preceding, accompanying and following care delivery. These tasks include scheduling visits, patient admissions and check-outs, paying bills, arranging follow-ups, and more.
For example, you can enable customers to schedule appointments via their preferred communication channel, including phone calls, online forms, or instant messaging. With smart scheduling that utilizes real-time data, you can minimize their wait times or manage their expectations about wait times to reduce discomfort and anxiety.
Responsible use of patient data
Collecting patient information and medical history starts already during initial interactions with a patient and continues all along the care delivery process. Customer service software should provide for HIPAA-compliant storage and management of patient personal data.
Empathetic and competent staff
Consistent delivery of high-quality customer service depends on the medical staff's commitment to helping patients, as well as their abilities in utilizing the tools provided to facilitate interactions with patients. It's imperative to provide training to your staff to familiarize themselves with the relevant tools, for example, call center software and other customer service tools. Enhancing their soft skills and customer service skills should be part of the training program too.
Microsoft presents a healthcare add-on to its robust customer service functionality. It gives the ability to view electronic medical records from the perspectives of a patient and a practitioner. Patient-related info, including appointments, procedures and prescribed medications, is viewable in a user-friendly interface.
Limitations: It can't be deployed in Microsoft Dataverse without a database, appropriate Dynamics 365 apps, and a full Dynamics 365 license.
Pricing:
Customer Service Professional: $50 user/month
Customer Service Enterprise: $95 user/month
Microsoft Cloud for Healthcare $95/user/month + the required Dynamics 365 apps.
Salesforce Service Cloud supports multi-channel customer communication, smart inquiry distribution, 360-degree customer view, an AI-powered chatbot, which can be customized for a business operating in healthcare.
Also, Salesforce offers the dedicated Health Cloud – CRM created for healthcare specifically. With regard to customer service, it enables combining relevant electronic medical records from multiple systems into a single view, provides AI-based inquiry routing and tools for agents to connect patients to the right care faster.
Limitations: Health Cloud is only available in Microsoft Internet Explorer 10 or 11, Microsoft Edge, and the most recent stable versions of Mozilla Firefox, Apple Safari, and Google Chrome.
Pricing:
Service Cloud
Essentials $25/user/month
Professional $75/user/month
Enterprise $50/user/month
Unlimited $300/user/month
Health Cloud
Enterprise: $300/user/month
Unlimited: $450/user/month
Zendesk is customer support software that can be used in the healthcare domain.
The Support Suite spans across multiple channels — phone, email, text, and live chat, so patients can communicate with your agents easily. It also has self-service options for patients to complete simple tasks like scheduling appointments and exploring service offerings on their own.
Limitations: Zendesk is still building its solution towards the enterprise level.
Pricing (with annual subscription):
Professional: 89/user/month
Enterprise: 149 user/month
What's your next step?
The business of healing and saving lives requires a lot from your employees — expertise, dedication, patience. Customer service software cannot equip you with that. What it can do is free your employees' time for more demanding tasks through automation and patients' self-service, and ultimately, increase your patients' satisfaction with the quality of care you provide.
If you are looking for a partner to implement customer service software for your healthcare organization, you are welcome to contact our team.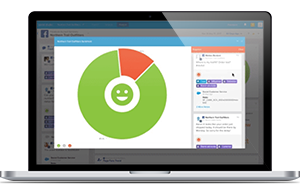 Looking for a way to improve your customer service? Our specialists in customer service management provide a full cycle of consulting and optimization.