Editor's note: In this article, ScienceSoft experts share some significant benefits big data analytics brings to the oil and gas industry. Read on and don't hesitate to choose ScienceSoft as your big data service provider – with 8 years of experience in big data, we are ready to shoulder your project of any complexity.
Oil and gas companies are constantly facing a number of industry-specific challenges, including lack of visibility into complex operational processes, the difficulties of performance improvement, equipment life cycle management, logistics complexity, and meeting environmental regulations. Have a look at how the ever-growing amount of data generated by oil and gas companies can surmount these challenges when crunched into meaningful insights.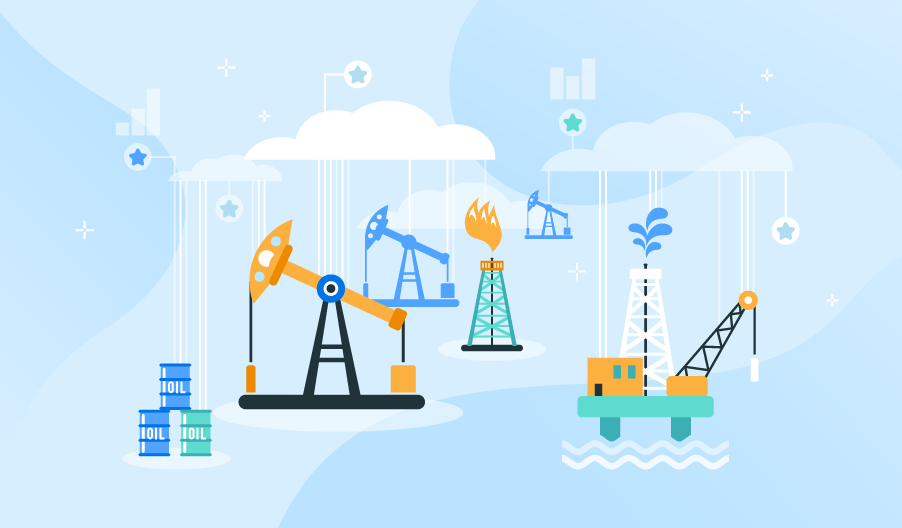 Big data analytics assists in streamlining key oil and gas operations, such as exploration, drilling, production and delivery, in the three sectors – upstream, midstream and downstream.
Having automated the well development and monitoring processes for our customers in the oil and gas industry and drawing on ScienceSoft's overall experience in building and implementing big data solutions, we note that big data analytics can be employed in the upstream sector to:
The upstream analytics begins with the acquisition of seismic data (collected with sensors) across a potential area of interest in search of petroleum sources. Once the data is gathered, it is processed and analyzed to determine a location for drilling. Seismic data can further be combined with other data sets (a company's historical data on former drilling operations, research data, etc.) to determine the amount of oil and gas in oil reservoirs.
Optimize drilling processes.
One way to optimize drilling processes is to customize predictive models that forecast potential equipment failures. As a starting point, the equipment is fitted out with sensors to collect data during drilling operations. This data, together with the equipment metadata (model, operational settings, etc.) is run through machine learning algorithms to identify usage patterns that are likely to end in breakdowns.
Improve reservoir engineering.
The variety of downhole sensors (temperature sensors, acoustic sensors, pressure sensors, etc.) can gather data needed for companies to improve reservoir production. For example, with big data analytics, companies can develop reservoir management applications to get timely and actionable information about changes in reservoir pressure, temperature, flow and acoustics to increase insight and control over their operations to drive reservoir performance and profitability.
Logistics in the petroleum industry is incredibly complex and the major concern is to transport oil and gas with the lowest risk possible. Companies utilize sensor analytics to ensure the safe logistics of their energy product. Predictive maintenance software analyzes sensor data from pipelines and tankers to detect abnormalities (fatigue cracks, stress corrosion, seismic ground movements, etc.), which allows preventing accidents.
Oil and gas enterprises can employ big data predictive analytics to reduce downtimes and maintenance costs of the refining equipment, thus improving asset management. As a first step, the performance of the equipment is analyzed by comparing its historical and current operating data. Based on the device's end-of-life criteria and failure conditions, the performance prediction is tuned further. Finally, the estimated performance of the equipment is visualized and presented to maintenance specialists for them to make decisions about, say, replacing this asset.
To promote the extensive use of big data in the industry, we show our customers how Royal Dutch Shell PLC, one of the seven oil and gas supermajors, leverages big data potential:
To survey and monitor oil exploration areas.
The company employs a seismic analysis to survey the area and indicate whether the given area contains oil and gas deposits. The more sophisticated big data analysis allows understanding the nuances of a particular drilling site before deciding to drill.
Shell installs optical fiber cables with sensors within the wells to measure seismic data. This data is further analyzed using artificial intelligence technologies to create 3D and 4D maps of the oil reservoirs to find out how much oil and gas is still left in the reservoir.
To extend equipment lifespan.
Generating tons of sensor data, Shell runs advanced analysis on drilling sites machinery to improve its performance and proactively understand what equipment requires maintenance. This stimulates a longer drilling time with fewer maintenance stops and. Solely in Nigeria, Shell has managed to save over $1 million by leveraging sensor analytics.
To increase logistics efficiency.
Shell utilizes complex algorithms to analyze transportation and production costs, economic factors that drive demand as well as weather patterns to determine how and where to move refined products and how to set the prices.
To cut net carbon footprint.
According to Shell's latest sustainability report, the company "supports the vision of a transition towards a net-zero emissions energy system". One way the company plans to reduce emissions is to use carbon capture and storage technology empowered by big data software.
Unleash big data potential
With big data analytics, companies transform enormous datasets into sound oil and gas exploration decisions, reduced operational costs, extended equipment lifespan, and lower environmental impact.
For you to secure the above-mentioned benefits, ScienceSoft's team is ready to advance your key operations with a tailored big data solution.
Start a dialog with our big data consultants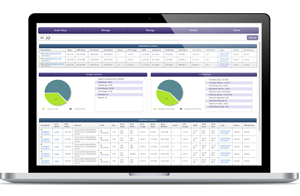 Big data is another step to your business success. We will help you to adopt an advanced approach to big data to unleash its full potential.