We design and implement powerful business intelligence that allows our customers to plan their companies' activities, check the performance against the plan, analyze changes and optimize their processes and operations.
Why Entrusting BI Implementation to ScienceSoft?
In addition to 14 years of consulting and hands-on business intelligence practice, we are also skilled in related domains, having 30 years of experience in data science and 6 years – in big data. With such a background, we don't see a problem in delivering a BI solution that derives insights from both traditional and big data or that is strengthened with machine learning or other data science techniques.
Such technology giants as Microsoft, Amazon Web Services and Oracle recognize our expertise. For example, Microsoft awarded us with Gold competencies in Data Analytics and Data Platform.
In 2018, we were rated A+ by BBB, as well as featured on The Silicon Review listing among 10 Fastest Growing Data Analytics Companies.
What Capabilities Will BI Make Available?
We have developed a BI framework to help companies monitor their activities, identify issues and their root causes, check best- and worst-case scenarios and finally benefit from fact-based decision-making:
Planning
Trend analysis to understand opportunities and challenges.
Forecasting, including what-if analysis to predict future trends based on data and choose the scenario that guarantees success.
Performance analysis to choose the most relevant internal and external benchmarks, as well as calculate important metrics.
Plan analysis to find mismatches, bottlenecks or underutilized capacity.
Plan execution
Plan/actual comparison to identify deviations in performance, if any, from the plan.
Root cause analysis to find the reasons for lower than planned performance.
Change analysis
Change impact analysis to assess the potential or the risks associated with a change.
ROI analysis to compare actual ROI against planned ROI.
Optimization
Insights provided by a centralized BI solution can be used to optimize internal processes or operations, such as:
Our Business Intelligence Demo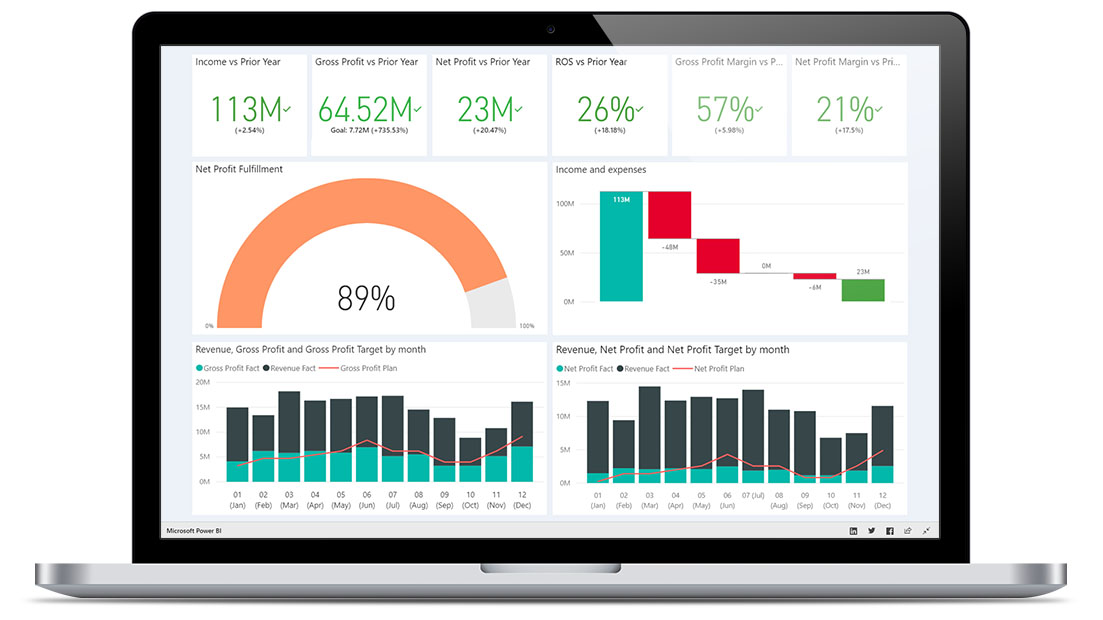 Try out
What BI Implementation Services Does ScienceSoft Provide?
We offer full-cycle services that cover consulting, implementation, support and evolution, thus leaving no gap between the ideas and the final solution.
What Cooperation Models Does ScienceSoft Offer?
We are open to various cooperation models – whether that be cooperating with external business consultants or with business users directly, with minimum burden on IT department.
We establish continuous communication with our customers to keep them informed about the project evolvement and timely react to their feedback.
What Industries Does ScienceSoft Serve?
We have substantial experience and understanding of business processes and industry standards in many fields:
Manufacturing
Retail and wholesale
Healthcare
Professional services
Banking
Telecommunications
However, we do not limit ourselves to those six and have certain experience in other industries:
Get a Powerful BI and Benefit from Informed Decisions
Would you like to discuss the particulars of your BI project? Our BI consultants are ready to clarify all the questions and guide you through the whole implementation process.