Customer big data analytics: an overview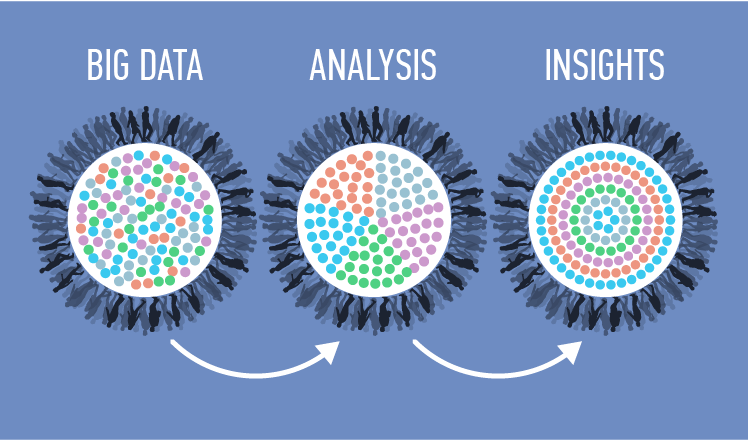 According to recent research, top 3 priorities for investing in big data and AI are advanced analytics (36%), improved customer service (23%) and decreased expenses (13%). Inspired by the research findings, our big data consulting team prepared an overview of customer big data analytics – a process of collecting and analyzing customer big data, aimed at learning customer behavior and preferences, as well as at applying predictive analytics to make key business decisions – as it allows achieving all the three priorities.
Customer big data brings insights
Below, we provide a list of possible insights that customer big data derived from both internal and external sources may bring. Yet, the list is not exhaustive and can be extended with industry-specific examples.
Big data sources

Analysis output

Transactional data
Data about service/product use
Web behavior data
Data from customer-created texts
Data about social network activity

Customer's personal information (name, gender, age, job title)
Customer's contact details (e-mail, phone number, address)
Customer's current life situation (marital status, household size, children)
Customer's preferences (favorite products and services, methods of their use and delivery, etc.)
Customer's reaction to price and promotions
Customer lifetime value (current and future)
Here, you can get more ideas about how customer data analytics helps to answer business questions.
5 main types of customer big data
We distinguish the following types of big data:
Transactional data
Data about service/product use
Web behavior data
Data from customer-created texts
Data about social network activities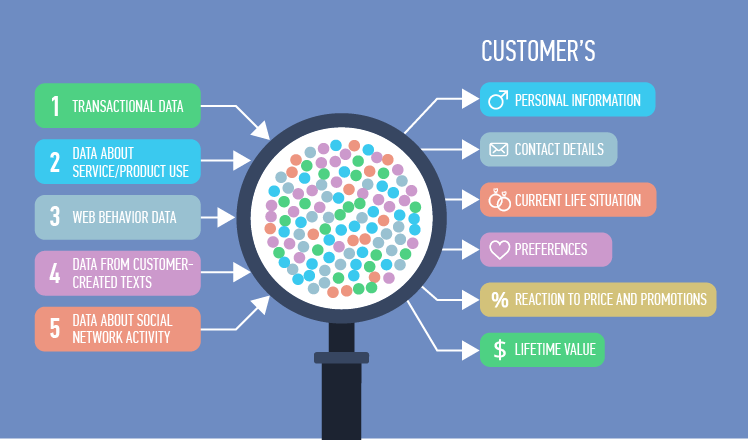 Here, we look at these big data types from both B2C and B2B perspectives to find out how companies in different industries can use them.
1. Transactional data
It's easy to explain transactional data through retail, where each purchase deepens a company's understanding of their customers' journeys. This knowledge helps to make relevant product offers to the customers, target marketing campaigns, build customer loyalty and maximize customer retention. Let's illustrate it with Walmart's big data initiative.
To enhance, customize and optimize the shopping experience of over 260 million customers weekly, Walmart mines billions of data rows daily. In the video, the company explains that they have made data analytics a part of every process and created thousands of variables to predict sales for both existing and new stores and to anticipate the needs of their customers.
2. Data about service/product use
Here, let's look at telecoms where every call and SMS adds to a customer profile. Telecoms can even understand the personality of a user by analyzing how many phone calls he or she makes a day and how long they are.
Verizon Wireless, for example, analyzes the data generated by 25+ million users with the purpose to boost customer experience, prevent customer churn and forecast the customer demand. In addition to understanding the customers' behavior, there is another advantage – data monetization. Verizon Wireless anonymizes their users' data and sells them to marketing agencies that desperately need this data for a laser-focus advertising.
Car manufacturers can collect information about location, driving habits, actual miles driven, etc. to be able to improve their product offer and customers' experience. General Motors, for instance, is striving to reach a 360-degree customer view. With this information at hand, the company can predict sales, wisely choose the locations for dealerships, as well as efficiently use the marketing budgets.
3. Web behavior data
In the B2B segment, a company can analyze every move that their website visitors (read potential customers) make: where they come from, which pages they open, how much visitors' engagement is, etc. With this data at hand, a company can create relevant content to increase conversion rate.
In B2C, e-commerce websites apply the same logic to track customer behavior, identify customer preferences and make product recommendations with the help of predictive analytics. They can evaluate customers' response to a marketing campaign to plan future activities more accurately.
4. Data from customer-created texts
With social media and numerous opportunities to share a personal impression about a product or a service on the internet, companies can study this content to get valuable insights. Text analytics gives companies a clue to what their customers think about their brand, product or service by identifying trends, recognizing a positive or negative emotional tone of each piece of text, revealing complaints and problem issues to solve.
In B2C, the analysis of call center logs can help identify the problem, improve the service, recognize the opportunity for a new product or a service, etc. In B2B, text analytics can help expand customers' database by collecting the information about prospective customers from company websites, social media profiles and news.
5. Data about social network activities
Some consumers are active on social networks, and it may give certain insights into their personality or a current life situation. For instance, a customer has been married and now he/she may be interested in a bank loan to buy a bigger house.
In B2B segment, social media is a valuable source of data for customer segmentation. Company's size, geography, product or service portfolio can be found in LinkedIn profile. Besides, company's latest posts may give an idea about company's priorities and needs.
To sum it up
Customer analytics is a powerful tool that can bring value to companies operating in both B2C and B2B segments. There are five main customer big data types, which can be used separately or in combination to get valuable insights. These insights are industry-specific and highly dependent on the goals that a business strives to achieve (to increase loyalty, to reduce customer churn, to boost sales, to increase conversion rate, etc.).