The extensive list of Microsoft certifications includes the ones in business intelligence and data science domains. As data science and business intelligence consultants, we can easily explain why these certificates are so popular: these directions are actively developing and the relevant workforce is highly demanded on the market.
Here, we take a closer look at the current situation with Microsoft certifications that prove the mastery of SQL Server, Power BI, Excel, and Azure services that relate to AI and machine learning (we'll call them business intelligence and data science certificates) and explain what skills they verify, how to get them and what benefits they can bring.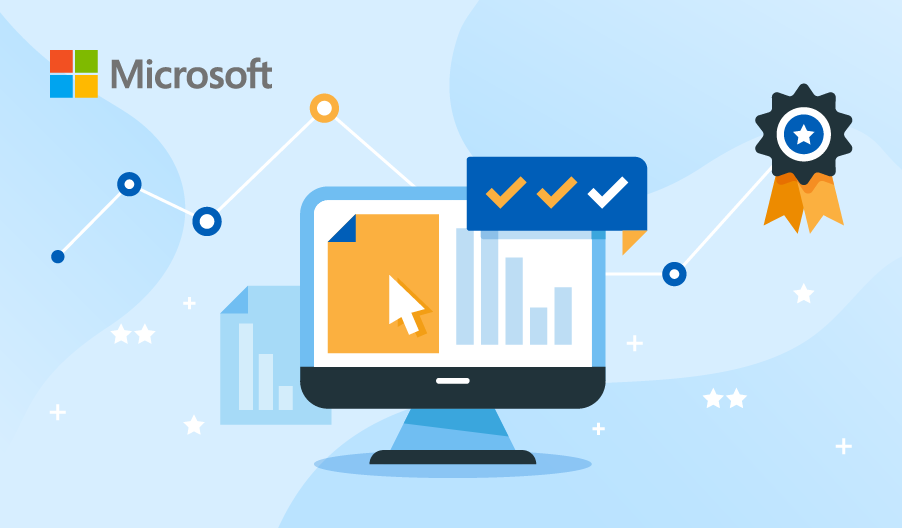 Benefits of having Microsoft certifications
For companies, having a Microsoft certified specialist on board means having skills that the company can make use of in real-life projects. According to the research, Microsoft certified developers are 90% more productive and nearly 60% more efficient compared to their non-certified peers.
For a vast number of BI and data science-related jobs like BI developers, data scientists and data analysts, Microsoft certifications serve as a quality mark. That's the first-hand experience that ScienceSoft's analytics team can share. Being Microsoft certified turns a competitive advantage and increases the holders' chances for hiring and having a higher salary than their uncertified peers. Plus, this demonstrates their desire and ability to learn and develop.
Available Microsoft BI and data science certifications
At Inspire 2019, Microsoft announced significant changes in their certification program and the adoption of role-based certifications. For example, they are moving away from Microsoft Certified Solutions Associates and Microsoft Certified Solutions Experts (or MCSAs and MCSEs, which are still available) and introducing the 'Microsoft Certified' status that goes along with the job role and the level achieved within their certification framework (Fundamentals, Associate, or Expert). Besides, Microsoft will extend their list of certifications with 10+ roles in January – June 2020 with some of them possibly being from BI or data science domains.
As of September 2019, the list of available BI and data science certifications looks as follows:
Certification name
The skills that the certification proves

Microsoft business intelligence certifications

Please note that according to the classification suggested by Microsoft, this group of certificates is called Data Analytics and Management.

MCSA: SQL Server 2012/2014

Modifying data with Transact-SQL.
Running queries with Transact-SQL and optimizing queries.
Installing and configuring SQL Server 2012/2014.
Backing up and restoring SQL Server 2012/2014 databases.
Securing SQL Server 2012/2014.
Designing and implementing a data warehouse with Microsoft SQL Server 2012/2014.
Configuring and deploying SQL Server Integration Services solutions.

MCSA: SQL 2016 Database Development

Managing data with Transact-SQL.
Querying data with Transact-SQL.
Designing, implementing and optimizing databases.

MCSA: SQL 2016 Database Administration

Configuring data access and auditing.
Managing backup and restore of databases.
Managing high availability and disaster recovery.
Managing and monitoring databases and instances.
Managing storage.

MCSA: SQL 2016 BI Development

Designing, implementing, and maintaining a data warehouse.
Designing and implementing extract, transform, and load (ETL) processes.
Implementing BI solutions using multidimensional and tabular data models and online analytical processing (OLAP) cubes.
Building data quality solutions.

MCSA: BI Reporting

Using Microsoft Power BI and Excel to perform data analysis:

Connecting to data sources.
Performing basic and advanced data transformations.
Cleaning data.
Creating and optimizing data models.
Visualizing data.

MCSE: Data Management and Analytics

Administering SQL Server Database.
Designing, implementing and maintaining enterprise-scale BI solutions.
Analyzing and visualizing data.

Microsoft data science certifications that embrace big data and machine learning

Please note that according to the classification suggested by Microsoft, this group of certificates is called Azure certification.

Microsoft Certified: Azure AI Engineer Associate

Designing and implementing AI solutions.
Monitoring and evaluating the AI environment.

Microsoft Certified: Azure Data Engineer Associate

Designing, implementing, managing and optimizing Azure data storage solutions.
Designing data processing and data security procedures.

Microsoft Certified: Azure Data Scientist Associate

Preparing data for modeling.
Performing feature engineering.
Developing data science models.
How to get Microsoft BI and data science certifications?
To get a certification, a candidate should make a certain path suggested by Microsoft. Mainly, this path consists of two corresponding exams. However, there are cases when a candidate should satisfy some prerequisites first. For example, to get MCSE: Data Management and Analytics, a candidate should first attain one of the relevant MSCAs in the business intelligence domain.
To show various BI and data science paths that Microsoft offers, we've compiled two convenient schemes:
Microsoft business intelligence certification paths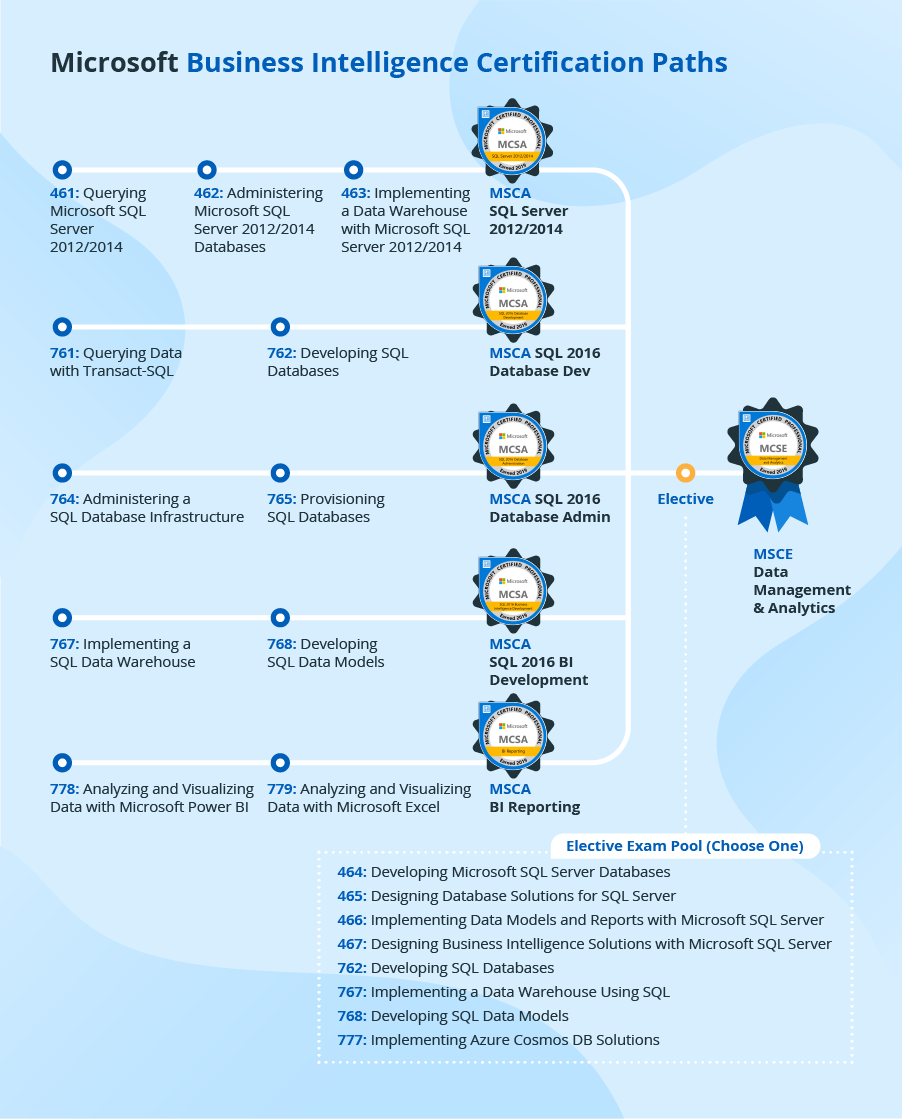 Microsoft data science certification paths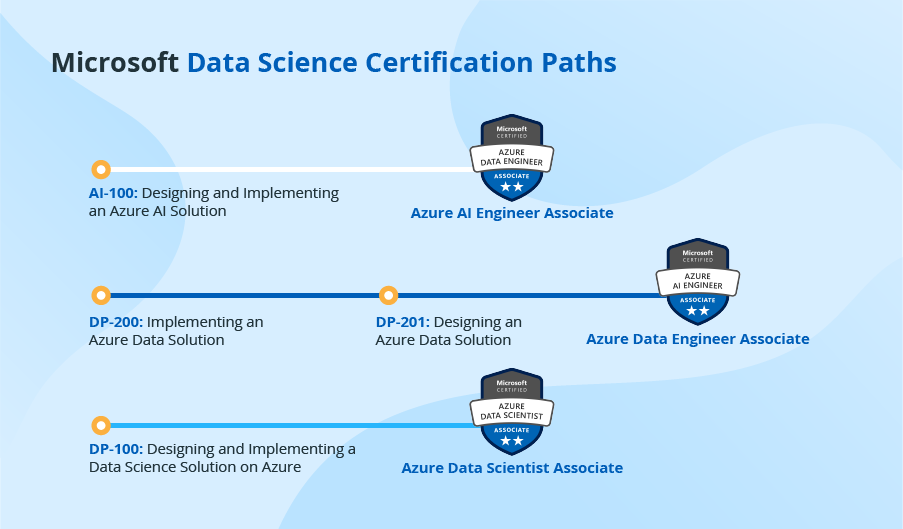 For each exam, Microsoft shares clear guidelines. They describe what skills will be tested, indicate sample tasks and the share of this kind of tasks in the overall test. Besides, Microsofts provides rich learning materials and a candidate can choose the preferred preparation option, be it instructor-led or self-paced training, studying relevant books or taking official practice tests.
How much do certifications cost?
The certification cost depends on the path that a candidate is to follow. As the cost of one exam is 165$, the final cost will depend on the number of exams in a path that a candidate should take. Let's consider the longest (and therefore the most expensive path) – earning the MCSE Data Management and Analytics certification by a candidate following the MCSA SQL Server 2012/2014 path. As the candidate has to pass four exams, the total cost of getting the MCSE is 660$ (in case, a candidate passes all the exams on their first attempt). By the way, a candidate is allowed to take a certain exam no more than 5 times within 12 months.
Still, we strongly recommend clarifying the exact pricing before registering to take an exam, as Microsoft grants discounts to some candidates, for example, Microsoft Partner Network members, as well as makes promotional offers.
Do Microsoft certifications expire?
Technically, Microsoft BI certifications don't expire. However, each certification is always bound to a specific date when it's earned. As the technologies evolve and their fresher versions replace their predecessors, it's natural to expect that a certification earned in 2012 may fail to create a competitive advantage in 2019. Perfectly understanding this, Microsoft regularly updates their exams. Plus, they usually offer transitional exams to help renew the certification at a discount.
To go or not to go for Microsoft BI and data science certifications?
We, at ScienceSoft, see strong arguments for obtaining Microsoft BI and data science certifications:
Microsoft is a world-known tech giant, and their certifications serve as a quality mark for BI and data science specialists worldwide.
The list of Microsoft business intelligence tools is vast and they are widely used for data warehouses, OLAP cubes and reporting components of analytics solutions, which makes the specialists that have mastered such tools highly demanded.
Microsoft Azure is among the top three cloud providers in 2019, so the mastery of Azure technologies is a true competitive advantage for the specialists working in data science and big data domains.