In a world where consultancies offer a hefty list of big data services, businesses still struggle to understand what value big data actually brings and what its most efficient use can be. Before committing to big data initiatives, companies tend to search for their competitors' real-life examples and evaluate the success of their endeavors. So, our data consultants decided to save a mile on the investigation path for those interested in big data usage and conducted secondary research based on 11 dedicated studies and reports published between 2015 and 2019. We also spiced our research up with the voices of well-known companies that shared their experience in big data adoption.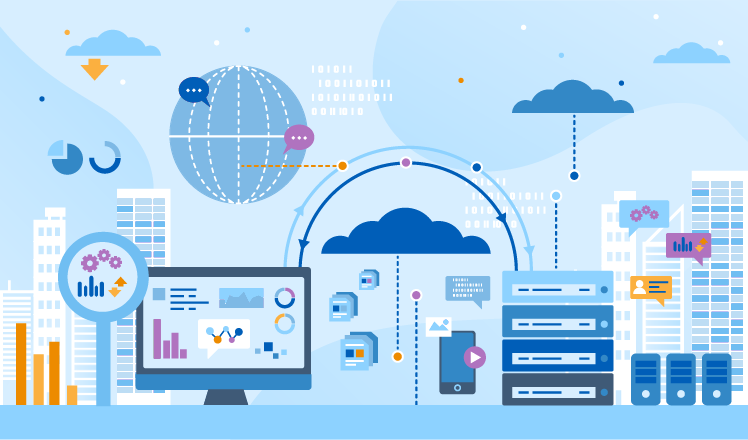 How companies of different sizes use big data
In this section, we'll refer to the following segments: small, mid-sized, large and very large organizations. This categorization is based on the number of employees in a business or an institution:
Small organizations (1-100 employees).
Mid-sized organizations (101-1,000 employees).
Large organizations (1,001- 5,000 employees).
Very large organizations (more than 5,000 employees).
How different industries use big data
Three industries most active in big data usage are telecommunications, healthcare, and financial services. [2]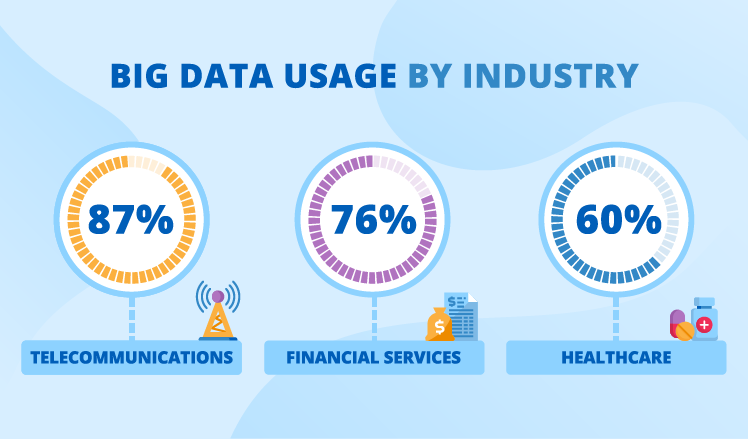 Telecommunications
Healthcare
Financial services
Education
Insurance
What use cases prevail for each big data technology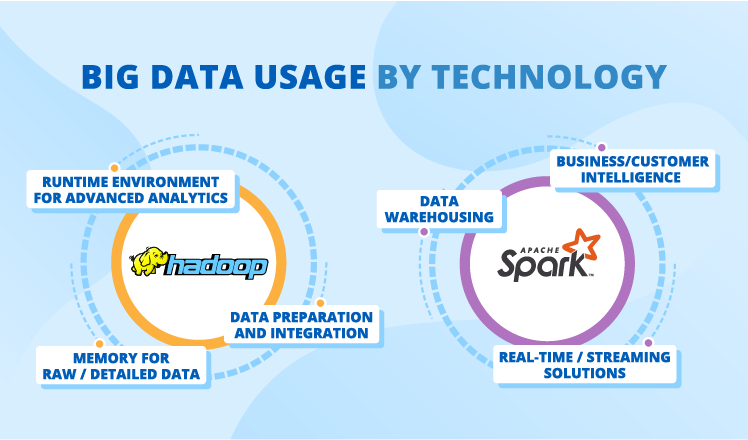 Hadoop use cases
Spark use cases
What value big data brings
The history of big data usage in numbers
Big data stories of big companies
Check what Walmart, PepsiCo, JPMorgan Chase, Rolls-Royce, and Uber have to say about their big data experience.
"Over time, the need for more insights has resulted in over 100 petabytes of analytical data that needs to be cleaned, stored, and served with minimum latency through our Hadoop-based big data platform. Since 2014, we have worked to develop a big data solution that ensures data reliability, scalability, and ease-of-use, and are now focusing on increasing our platform's speed and efficiency."
Reza Shiftehfar, Hadoop Platform Team Leader at Uber
"Walmart relies on big data to get a real-time view of the workflow in the pharmacy, distribution centers and throughout our stores and e-commerce."
"[About their big data platform Pep Worx] We were able to launch the product [Quaker Overnight Oats] using very targeted media, all the way through targeted in-store support, to engage those most valuable shoppers and bring the product to life at retail in a unique way. These priority customers drove 80% of the product's sales growth in the first 12 weeks after launch."
Jeff Swearingen, Senior Vice President of Marketing at PepsiCo
"Artificial intelligence, big data and machine learning are helping us reduce risk and fraud, upgrade service, improve underwriting and enhance marketing across the firm."
Jamie Dimon, Chairman and Chief Executive Officer at JPMorgan Chase
"We have huge clusters of high-power computing which are used in the design process. We generate tens of terabytes of data on each simulation of one of our jet engines. We then have to use some pretty sophisticated computer techniques to look into that massive dataset and visualize whether that particular product we've designed is good or bad. Visualizing big data is just as important as the techniques we use for manipulating it."
Paul Stein, Chief Scientific Officer at Rolls-Royce
A quick final look at big data
The findings of our secondary research are in line with our hands-on experience: businesses increasingly adopt big data, and, overall, they are highly satisfied with the results of their initiatives. Though the majority of big data use cases are about data storage and processing, they cover multiple business aspects, such as customer analytics, risk assessment and fraud detection. So, each business can find the relevant use case to satisfy their particular needs.
References
[1] 2017 Big Data Analytics Market Study by Dresner Advisory Services
[2] IDC/Dell EMC, Big Data: Turning Promise Into Reality
[3] Survey Report 2018: Big Data Analytics for Financial Services
[4] 2016 Predictive Modeling Benchmark Survey (U.S.) by Willis Towers Watson
[5] Business Application Research Center, Why Companies Use Big Data Analytics
[6] TDWI, Hadoop for the Enterprise
[7] Databricks, Apache Spark Survey 2016 Report
[8] Apache Spark Market Survey by Taneja Group
[9] McKinsey, Analytics comes of age
[10] 2017 Big Data Executive Survey by NewVantage Partners