Editor's note: Read on about the peculiarities of customer support of SaaS businesses and proven practices they follow to keep their clients satisfied. If you're planning to make your customer support a real driver of your clients' loyalty and profit increase, you are welcome to consider our IT help desk outsourcing offer.
According to the research by Frederick Reichheld from Bain & Company, the rise of a customer retention rate by 5% leads to the profit increase between 25% to 95%. Delivering timely and efficient help is one of the proven ways to retain customers. Still, when it comes to getting higher customer loyalty, simply being "at the right place in the right time" with your help is not enough. To see the continuous rise of a customer satisfaction score (and, consequently, a profit increase) in 2020, a company has to go beyond usual customer service ways and build a communication culture with customers and their needs at its core. In this regard, I recommend picking up the experience of top-tier SaaS companies, like Salesforce and Amazon, known for their superior customer service. Here are some of the best practices of SaaS customer support worth adopting to keep your clients amazed.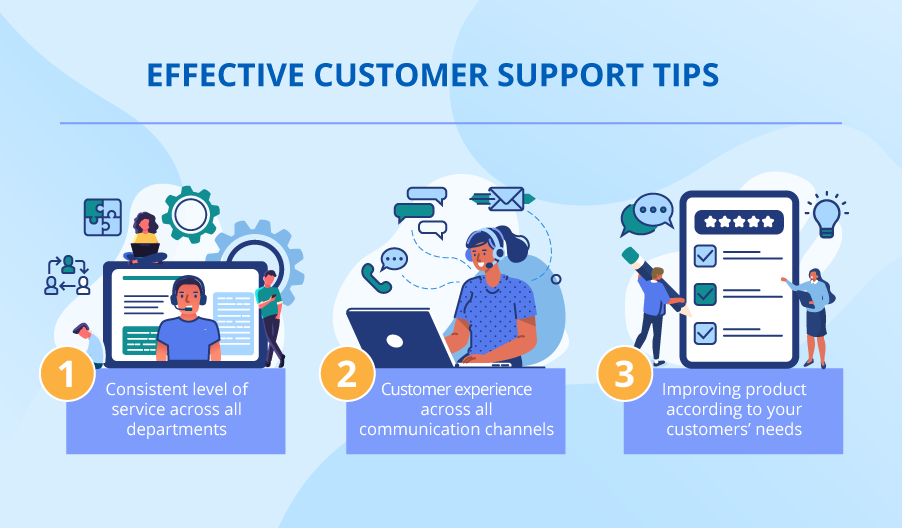 The State of the Connected Customer research by Salesforce claims that 78% of customers expect the level of service to be consistent across departments; otherwise, 73% of them will start considering other brands. It means a customer expects sales reps and customer service agents to be familiar with their purchasing history, concerns, and prior interactions when reaching out to them with an issue or a product request. At the same time, the info on the client and their interactions may be stored in different systems. It may lead to an "impersonal" or unhelpful conversation with sales and support staff and get the customer frustrated. To prevent that, SaaS companies use unified CRM solutions for sales and customer service. It becomes a source of shared customer info and curbs the situation when the left hand doesn't know what the right is doing. CRM acts as a source of unified knowledge between departments, ensures that nothing falls through the cracks, and allows providing a consistent customer experience that clients appreciate.
Another thing SaaS businesses focus on is making their customer support not only consistent but tailored specifically to the support channel. Although the approach to SaaS support via live chat, email, or phone is generally friendly and empathetic, each channel has its peculiarities to be taken into account. Here's what a customer service team has to keep in mind while processing support requests via:
Live chat:
Respond ASAP (45 seconds is a quality standard).
Respond to multiple people at a time, if possible.
Be informative, but precise.
Imitate customer phrasing.
Email:
Respond within a pre-defined timeframe (a good practice is within 60 minutes).
Personalize email templates.
Add links to any information resources (knowledge articles, FAQs).
Double-check for mistakes.
Make emails well-structured and clear.
Phone:
Be courteous.
Engage in active listening.
Show understanding by summarizing a client's problem.
Inform about hold times.
Another customer support strategy SaaS companies take is listening to their customers' opinions and shaping the product in line with the feedback. For example, Salesforce has created Ideas – a website where users can suggest improvements and changes to Salesforce products, processes, etc. There's also an opportunity for users and company representatives to comment on the propositions and vote for them. The most popular and top-ranked suggestions are likely to turn into product enhancements introduced in one of the upcoming releases. This approach to collecting customer feedback makes clients feel valued, as they see their voice matters.
Fashion your customer support by highest standards
As you see, the customer support of leading SaaS businesses implies going the extra mile, not merely processing support requests. If you want to follow the example of the industry leaders and create a customer experience that your clients will love, make your first step by talking to our team.
With 14 years in application support, we offer multi-tiered IT support for your enterprise applications or your software products and their users with minimum involvement from your side.