Editor's note: Veranika shares useful tips to enhance mobile app support and improve app ratings. If you need assistance with building sustainable customer support for your app, feel free to consider our help desk services.
With the constantly growing number of mobile apps in the App Store and Google Play, it's become a challenge for today's app developers to compete for high app ratings and mobile app customers' loyalty. My practice shows that a sure way for an app to stand out, get more positive reviews, and build a base of loyal and engaged customers is to offer sustainable customer support. Below, I present a list of proven tips for boosting your app customer support.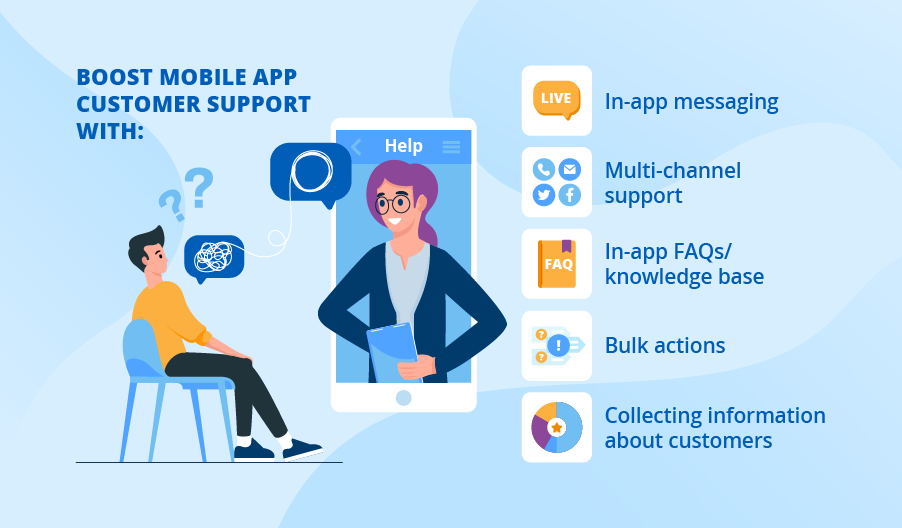 An in-app messaging tool, like live chat, will help you provide your clients with real-time support with no need to leave the app. Mobile customers who encountered a problem would have a possibility to talk to you directly instead of leaving bad reviews or a low ranking in the App Store or Google Play.
However quick and convenient in-app messaging may be, some customers will still be reluctant to use it. Keep their options open and provide several communication channels, including email, phone, and social media like Twitter, Instagram or Facebook.
User-friendly in-app FAQs or knowledge base containing materials on self-support will encourage your mobile app customers to handle simple issues on their own without generating tickets. Thus, you can greatly decrease the number of repetitive questions and save your agents' time and efforts. The content should be digestible and easily searchable to make it easy for mobile customers to find solutions to their problems.
As your app customer base grows, your support team starts receiving more and more similar tickets. Identify and group frequently emerging issues and create short canned responses to them. It will help your agents save time by using ready-made answers to similar questions instead of responding to them individually. However, it's important not to overuse canned responses. If used too often, they can make your customer support inadequate and impersonal.
Alongside resolving issues, gather information about your customers beyond the status of their tickets, for example, their biographical data and previous history with your app. By equipping your app with customer analytics capabilities, you'll get impartial insight into your customers' experience with your app, as well as the effectiveness of your customer support.
Analyzing reviews on the App Store and Google Play is also a good idea to get impartial feedback and address soft spots before more users face problems and contact your support.
Stand out with enhanced mobile app customer support
Advanced customer support is a crucial factor in making your app prominent among thousands of other apps. It is the key to customers' positive reviews and a high app rating. The tips I shared above will help you drive your mobile app success and enhance your customer experience. If you are looking to power your app with customer support capabilities, feel free to contact ScienceSoft's team.
With 14 years in application support, we offer multi-tiered IT support for your enterprise applications or your software products and their users with minimum involvement from your side.