Stratistics MRC has revealed the insights into the worldwide IT outsourcing market. Having accounted for $314.92 billion in 2015, it is expected to reach $481.37 billion by 2022. The figures are quite predictable: companies want to reduce considerable spending on IT component and have the ability to focus on core business functions. Two models of IT outsourcing – staff augmentation and managed IT services - address these enterprise challenges. Let's take a closer look at the two models and shed light on which one takes the lead.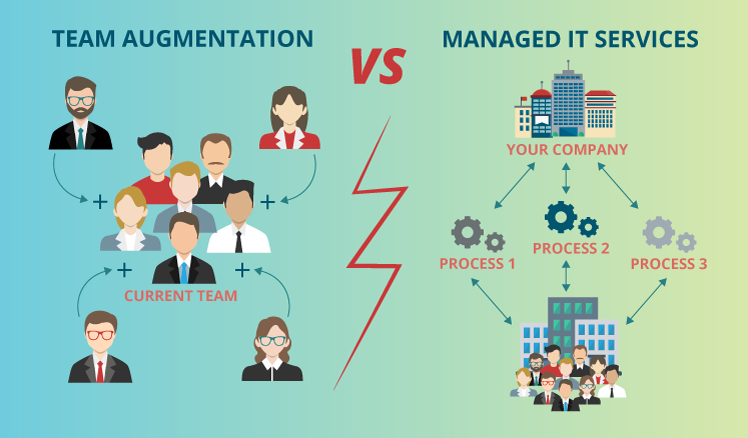 Staff augmentation
Staff augmentation means contracting narrowly-aimed professionals from a service provider to complement your in-house staff. What benefits does this model bring?
Cost-effectiveness. When you don't need additional staff permanently, what's the point of paying full-time wages? With staff augmentation, you are supported by highly qualified professionals exactly when your business needs them.
Adaptivity. You can easily access missing skills and scale your IT team size up and down according to the project scope.
Attrition resistance. Often companies find it hard to obtain and retain permanent staff. With the growing demand for IT services, up to 50% of software engineers are ready to decamp to another employer. Companies can't avoid this attrition trend, but staff augmentation makes it less worrisome filling the need for qualified specialists.
Yet, staff augmentation works perfectly only as a short-term solution. Forward-thinking companies want to preserve the high level of technological development for a long time. Seeing how fruitful staff augmentation can be, some decision makers transform the model into a permanent one. And what do they face?
Cost-effectiveness is challenged. Staff augmentation entails higher labor costs, as it includes overhead and margin. Contracting freelancers is not the way out, because it entails higher administrative costs as well.
You don't get sufficient insight into what work is actually done by the contractor. This model doesn't presuppose any other service level commitments than work hours, so the staff often invents tasks to keep them busy and dawdles over regular tasks.
The bottom line is, you get high-cost permanent resources. Yes, they might be of first-rate quality, but you need the result. With staff augmentation, the customer company is fully liable for the infrastructure management process and quality assurance, so the result is also the company's responsibility.
Managed IT services
Managed service model is the complex of services which implies an external control of a company's non-core systems. It inherits all the benefits of flexibility and skill access from staff augmentation, while overcoming its major disadvantages.
Improved cost model. Managed IT services vendors tie pricing to the outcome. This means, if a customer's demand for particular services diminishes or grows, the price will change respectively.
Guaranteed outcome. Service delivery is supported by a service level agreement (SLA), where the scope and time limit of the service are documented. Providers try to meet the commitments, so they are incentivized to maximize the value of their work.
Access to a variety of skills. Managed IT services organizations are usually larger than staff augmentation companies, so they offer customers a much broader base of skills, solutions and knowledge, which is necessary to meet constantly evolving customers' requirements.
As a result, managed service model allows you to focus on the core business and shift supporting services to a skillful and result-oriented contractor.
Adopting managed IT services
Moving to a managed service model is a gradual process, involving four phases: planning, vendor choice, transition, governance.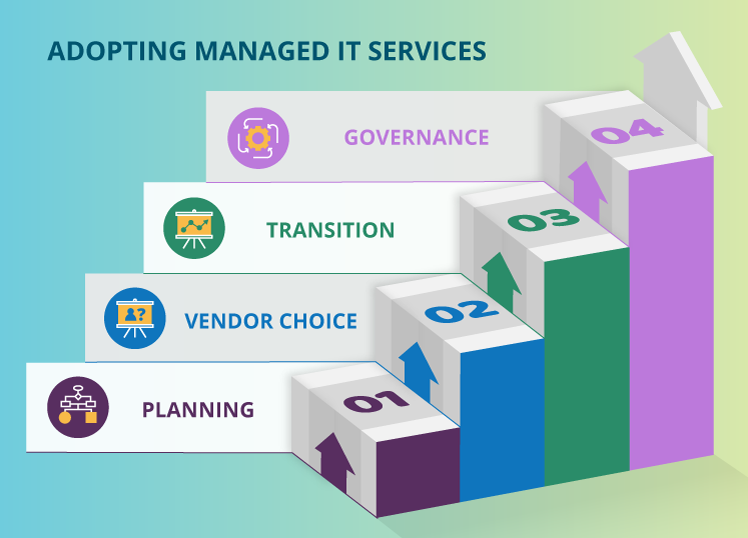 Phase 1: planning
First, define what to outsource. Never delegate to a vendor management of the processes that are business knowledge-intensive and unique to your company. Choosing the wrong service for outsourcing results in a vendor lock-in.
Secondly, decide on the scope of managed it services. For example, if it's a hosting service, you should determine where the hosting begins and ends. Sounds obvious, but practice shows that it's far from simple. Disregarding this step results in finger-pointing, when customers and vendors understand the scope differently and leave certain processes unattended.
Thirdly, work out an optimal SLA which, apart from the service definition and scope, will cover such important clauses as problem reporting, performance metrics, customer compensation, customer responsibilities and data protection.
Phase 2: vendor choice
Reliability of a managed IT services vendor is one of the main risks inhibiting companies from choosing this model. If you want to collaborate with a trustworthy partner, be ready for a pretty exhausting vendor fishing process.
First, shortlist managed IT services providers based on such criteria, as recommendations from experts in this domain, vendors' capabilities in a particular technology and references from previous customers.
Once you selected 5-10 candidates, send them RFI or conduct one-to-one sessions to get more information.
Afterwards, circulate your RFP to the runners-up and evaluate their responses based on vendor's capability, and price.
Finally, select the appropriate candidate and negotiate the final terms and conditions of an SLA.
Phase 3: transition
A transition plan, where the methodology and schedule are specified is reflected in an SLA. Be aware of a common pitfall: over-specification on the way a service should be delivered. Once a customer company starts to interfere with a vendor's methodology, it moves a great deal of risk in accountability of providing a service to itself. This results in a suboptimal performance of the provider, who can always say: "We wanted to do this in our way, but you interfered. So, if anything goes wrong, you will be the one to blame".
During this phase, the actual knowledge transfer happens. Initially, a new vendor observes how the internal staff or the augmentation team operates. After that, the vendor completely takes overall service management responsibilities.
Phase 4: governance
To maintain the sustainability of managed IT services, it's important for a customer to perform regular reporting and periodic performance audits, review volume of services with respect to SLA and ensure that the vendor remains competitive to what IT services market currently offers.
Staff augmentation vs managed IT services dilemma
The choice between two outsourcing models should be based on a detailed cost-benefit analysis. If your company needs specialized services not sufficiently available within your own IT department at a specific period of time, staff augmentation is an appropriate variant. However, if you are searching for a continuous operating model with a predictable cost model, scalability on demand and fewer delivery risks, consider managed IT services.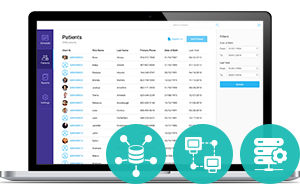 Want to stay technologically advanced and still focused on your core business activities? We are ready to help you manage your complex IT environment.