Organize CRM testing without getting into technics
According to the Gartner stats, CRM is the largest of all software markets. Still, there is a fly in the ointment of booming CRM popularity. Another research provider claims that one in five CRM directors reports that their bugged and untuned CRM not only failed to meet their expectations but even damaged long-lasting customer relations. CRM analytics errors, perplexing interface, and each file requiring significant time to download can hinder the performance of the staff involved in customer management.
If your CRM is prone to these faults, it's high time you took action. To start with the improvement of CRM, it should be thoroughly tested with all possible bugs found, coherently described, and documented. Here, we consider what CRM problems can be revealed during the testing process, how to organize it properly either with the help of an internal or an outsourced test team, and how to measure CRM testing quality.
Short summary: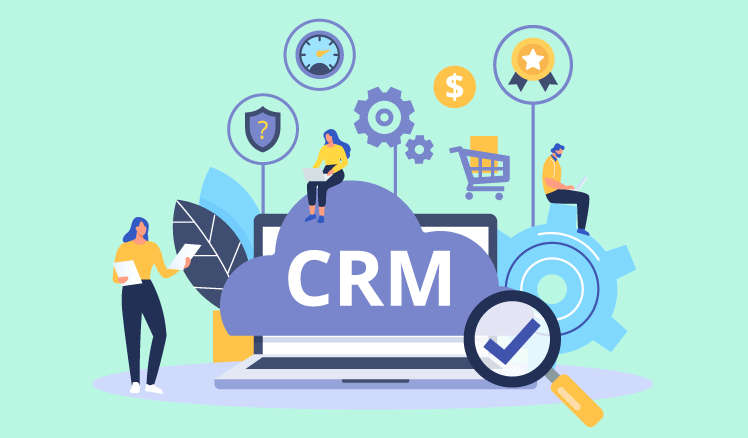 CRM-bound problems that testing can reveal
To decide whether you need to get your CRM tested, let's see what root causes of CRM problems testing can uncover and what potential defects it can help to avoid.
Low user adoption
Incorrect or missing customer data, wrong customer classification, along with slow or inconvenient UI are likely to discourage sales, customer service and marketing employees from turning to a number of the most problematic CRM functions or from using CRM at all.
Unhappy customers
Customer management can be easily hindered by missed or undue notifications of customer appointments; a faulty reflection of return and complaint data; delivery delays because of an incorrect payment, sales or delivery status; wrong emails received by wrong customers. All these CRM defects can keep on disappointing your clients.
The lack of customer management visibility
You may fail to get accurate statistics from CRM due to inconsistent and inadequately altered data or wrong calculation and classification of customer purchase data resulting from the bad integration of your CRM with ERP, financial software, a document management system, a data warehouse or its malfunctions. While you get the misleading view of the customer management process and are likely to end with blindfold strategic decisions, your competitors use accurate CRM stats to set real sales targets and quotas, to plan and manage marketing campaigns, to improve sales and customer satisfaction.
Information leakage
If your CRM doesn't fully comply with regional or international data security regulations (for example, General Data Protection Regulation (GDPR) for the EU and EEA; California Consumer Privacy Act for California, US; HIPAA for US health-care industry representatives), it may lead to confidential business information or sensitive customer data being exposed to unauthorized users and result in legal claims and fines. The more departments and employees use CRM, the more acute the need for role-based access verification becomes.
What shouldn't be missed while organizing CRM testing
So, you acknowledge that your CRM needs to be diagnosed as the first step towards its improvement. How can you get started with CRM testing? To allow for a CRM testing head start, consider the following essential testing prerequisites.
CRM testing should be well-planned
After the deep analysis of the existing CRM and its multilevel (including functional, interface, safety, operational) requirements specification, a test lead needs to develop a set of comprehensive test artifacts such as a test strategy and a test plan. A test strategy is the most high-level test document outlining a general testing scope, testing objectives and types, approximate testing time, human and costs estimation of the testing project. A test plan comprises a test schedule, pass/fail criteria, roles and responsibilities within a test team. These test artifacts should be kept up-to-date during the whole testing process to cover the changes introduced into CRM requirements.
A test team should be experienced in CRM testing
Test team should have a sufficient number of test engineers knowledgeable in CRM testing specifics and best practices. CRM testing implies a number of peculiarities, for example, the validation of built-in communication tools for CRM users and for automated communication with customers, the specifics implied by CRM target environment (desktop or mobile platforms), its smooth internal integration with custom-developed and purchased add-ons and external integrations with other enterprise software.
A test team should consider CRM testing automation
Test automation is highly efficient in executing time-consuming testing types and the ones comprising large amounts of data (for example, regression, performance, data warehouse and usability testing). However, automation of complex CRM workflows and its highly responsive user interface requires significant time. Thus, test automation can come in handy only for long-term testing projects. A test lead should deeply analyze CRM requirements, a test plan and a testing scope and decide whether test automation can facilitate your CRM testing project or not.
A test team should continuously improve testing quality
Relevant and comprehensive test cases are difficult to develop from scratch, particularly, if CRM requirements aren't full or categorized in an inconvenient way for testing. However, a professional test team should maintain high testing quality throughout all project stages. For example, they revise and improve test cases and scenarios after each testing stage. This is particularly acute for automated testing, as automated scripts should be continuously checked for validity, most of them need restructuring or correcting after each change introduced to your CRM.
A test lead should be open for communication
Although it's up to a test lead to plan, deploy and manage the testing process, you need to carry out quality risks management. For the corresponding activities (risks assessment, control over the existing issues and their mitigation), you need to get constantly updated information on CRM testing results. Thus, organizing monthly meetings with a test lead will be sufficient, if the testing performance is smooth and effective. If there are current issues with the testing quality or CRM administrators or developers hamper the bug fixing process for some reason, weekly meetings should take place.
What CRM testing should cover
To be effective, CRM testing should cover the following aspects:
CRM data quality
The very core of your CRM lies within efficient customer data management. Thus, a test team should put data quality and data warehouse testing to the forefront. During data quality testing, test engineers check whether CRM handles data as expected: data is reflected correctly, partial and full search functions properly, CRM graphs, tables, diagrams represent it correctly, and data is properly sorted.
Also, data warehouse faults may result in inaccurate or ambiguous CRM reports. To ensure that your data warehouse doesn't populate CRM with invalid data, the test team should carry out data warehouse testing. Test engineers validate the ETL (extract-transform-load) process, the data warehouse structure (schema), the consistency of its tables and columns, possible data duplication, and more.
CRM functionality
Functionality testing allows checking whether all the required functions are present in a CRM solution and are processed correctly. Test engineers normally check the smooth functioning of CRM workflows for sales (for example, customized automated communication with prospects via IP telephony, emails, web forms; lead and cases assignment), marketing (including automated campaign and event management, email marketing and social media integration), and customer service (case assignment, prioritization, escalation and so on). The test team also makes sure that proper and clear error messages appear and a web CRM adequately functions in different browsers (cross-browser compatibility).
Integration of CRM with other enterprise systems
CRM effectiveness is based on its information being smoothly shared with a data warehouse, ERP, a document management system, a financial system, an email server. The integration with each one is prone to a number of pitfalls, for example, data loss or inadequate data reflection due to incompatible data formats (one system stores data in the numeric format only, while the other one allows alpha characters). Integration testing checks whether CRM data remains unchanged during data transfer, the changes introduced in one system are visualized in the connected systems, and the relevant change history is available. Besides, custom-developed features introduce another tricky integration issue – their faulty code compatibility with the existing CRM code can seriously hinder CRM performance.
CRM performance
Performance testing is to ensure that your employees won't lose time waiting for the system's response while using CRM. This testing is performed to check the system behavior under continuos and peak load conditions, to know the maximum operating capacity of your CRM. Besides, test engineers measure the effects of multiple users working with CRM simultaneously: loading speed, response time, and a maximum number of users.
CRM security
Security testing is a comprehensive set of testing activities (vulnerability and security scanning, security auditing, ethical hacking) ensuring your client base and confidential customer data is hack-proof. One of the most significant aspects of CRM security testing is role-based access control validation. It ensures that each employee is granted the relevant permissions to perform certain operations in CRM.
CRM uninterrupted functionality after introduced changes
Even the smallest fixes and customizations can cause more new bugs, not to mention the introduction of more substantial custom functionality. Thus, regression testing should be performed regularly, as it ensures that your CRM stays stable and reliable after all improvements. Carrying out regression testing, the test team verifies if the code of introduced features and code amendments disturb existing CRM functions.
CRM testing KPIs
Like the results of all business activities, CRM testing efficiency needs to be measured to improve. Thus, once a month CRM testing performance should be assessed by validating it against relevant KPIs. Test reports can provide needed testing performance metrics. Below are the examples of some common testing KPIs.
Testing velocity
This KPI shows what part of the overall testing scope the test team managed to cover during a certain time interval. The test team's velocity can be checked by comparing the actual testing pace with the planned one stated in the test schedule.
Requirements not covered by test cases
Test cases and suites should cover all software requirements. Even one requirement not covered or only partially covered with test cases is alarming. If there are "abandoned" requirements, it's high time for the test team to update and correct the test suites not to spend time and efforts on monkey business leaving the real requirements behind.
The number of rejected defects
Sometimes, test engineers find a bug and report it to developers who don't fix it as they consider it to be irrelevant for some reason. Developers reject the majority of defects with a comment "working as designed." This may denote that CRM requirements aren't documented in detail and need to be improved. If CRM requirements are sufficient, this KPI directly shows that the test team misunderstands the requirements and the test lead is to resolve this problem. No more than 5% of all the submitted defects should be rejected by developers.
The number of missed bugs
Though the ideal number of missed bugs equals zero, research results show that it's close to impossible – 2 from 13,000 of testing projects are reported to result in no defects found after a software release. Besides, bugs are normally differentiated according to their severity (critical, major, minor, and trivial). From 5 to 15% of minor and trivial bugs being missed is an approximate non-critical result for this KPI. So, to get closer to zero-bug software, it's a good idea to encourage users to report bugs found in the already tested functionality in any way convenient for them (via emails or messengers in the form of Excel tables or just print screens).
The test automation rate
The more automated tests are introduced by a test team – the quicker testing becomes, the fewer bugs are missed due to the human factor. Still, this KPI should be measured only for long-term projects with a stable set of requirements, where test automation is appropriate. The scale of test automation should be discussed with a test lead at the test strategy development stage. Thus, this KPI directly signalizes that the test strategy is wrong and more automated tests are needed in case it shows the lower percentage of test automation than specified in the strategy.
Takeaways
Untested or improperly tested CRM is prone to numerous defects able to endanger your customer relations. To organize comprehensive CRM testing efficiently, you need to mind the basics: a test lead should develop a profound test strategy and plan and be open for your quality risks management, while a test team should have relevant CRM testing experience and continuously improve their testing process.
Testing should be comprehensive and cover such CRM aspects as its functionality, integrations, performance, security, etc. Finally, the testing performance results should be regularly measured against relevant KPIs. This way, you'll get your CRM successfully diagnosed.