Editor's note: Veranika shares valuable tips for improving your customer support and building a base of loyal customers. If you want to establish an orderly help desk to bring more structure to your customer support, you are welcome to consider ScienceSoft's IT help desk services.
Today, customer support is considered a key factor in determining customers' satisfaction with a brand. Excellent customer support helps create a solid reputation for a company and build a base of loyal customers. However, it can be rather challenging to make customer support work like a Swiss watch. Here is a list of some tried-and-tested practices that will help you efficiently manage customer support at your company.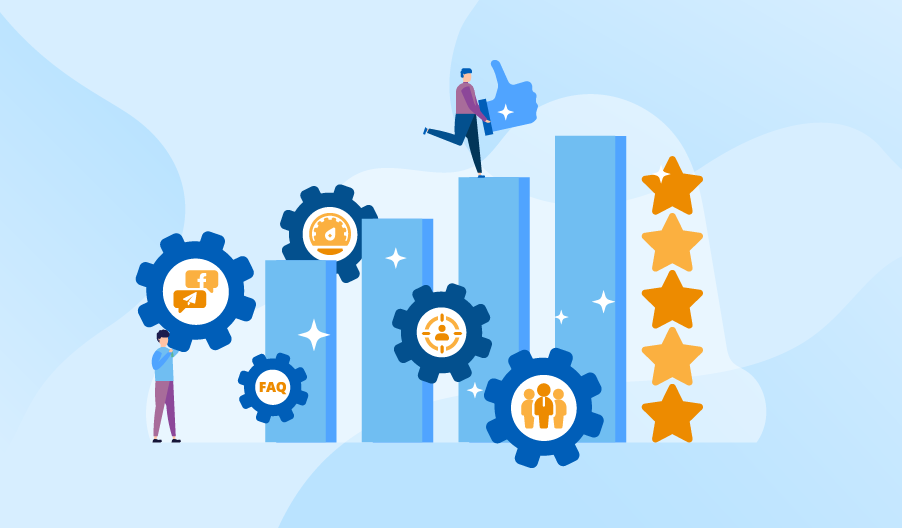 Different customers prefer to seek help through different communication channels, so it's important for your support to be available on the channels your customers want to use. Consider multiple contact options and make sure they are not limited to phone and email. Today's customers tend to reach out to support also via various social media (Instagram, Facebook, Twitter), messaging apps (WhatsApp, Viber, Telegram), and a live chat.
According to recent stats, over 60% of US customers prefer self-support to solve simple issues. So, if you want to satisfy this need, as well as save your agents' time and efforts for those who come with more challenging issues, you need to give your customers the right tools for handling simple requests on their own. One of the most effective tools is a self-support customer portal on your website. It can contain user guides, FAQs, knowledge articles, and training materials describing your product or service in general and aspects that potentially pose questions. The information on the portal should be comprehensive, digestible, and searchable to make it easy for your customers to find and quickly apply it. The content should be written by your technical and marketing specialists and regularly refreshed according to the latest updates or frequently repeating issues.
Naturally, you can deliver exceptional customer support only if you have a clear picture of how your support team works. By looking at the hard numbers, you can analyze all the strengths and weaknesses of your support, and spot opportunities for improvement to influence customers' satisfaction and loyalty to your brand and increase a retention rate. Furthermore, measuring your customer support performance can help you reduce your customer support management efforts. The most important KPIs to measure are First Response Time, Average Resolution Time, Resolution Rate, Average Customer Satisfaction Score, and Customer Retention Rate.
According to stats, 33% of customers abandoned a business relationship last year because customer support lacked personalization. To deliver more personalized support and, thus, increase your retention rate, you need to get to know your customers better. Customer support software can help you create a more personal touch with your customers. It gives your support agents a clear overview of your customers, including their personal information, previous history with your company, the status of their orders, or even information about their preferences based on their activity on social media.
Your support agents are the face of your company who can determine a customer's decision whether to stay loyal to your brand or leave. Your employees should possess hard skills for solving customers' technical issues, as well as soft skills to communicate with your clients effectively.
Your next step to superior customer support
The tips I shared above are by no means exhaustive, and there are a lot more things to take into account to create value-driving customer support. For example, to streamline case management and increase the number of successfully resolved cases, you need transparent, automated ticket management from the first contact to closing a case. So if you need help with any aspect of building a help desk for your company, just let us know.
With 12 years in application support, we offer multi-tiered IT support for your enterprise applications or your software products and their users with minimum involvement from your side.