Editor's note: Daria explains the importance and popularity of customer self-service portals and overviews the best software to create customer portal solutions. If you are interested in creating a customer service portal, feel free to check the customer portal development offering.
According to the State of Global Customer Service Report, 88% of customers expect a company to offer a self-service portal or a customer website. What is more, two-thirds of all customers prefer addressing issues via customer portals and contact agents only in case they didn't manage to solve a problem by themselves.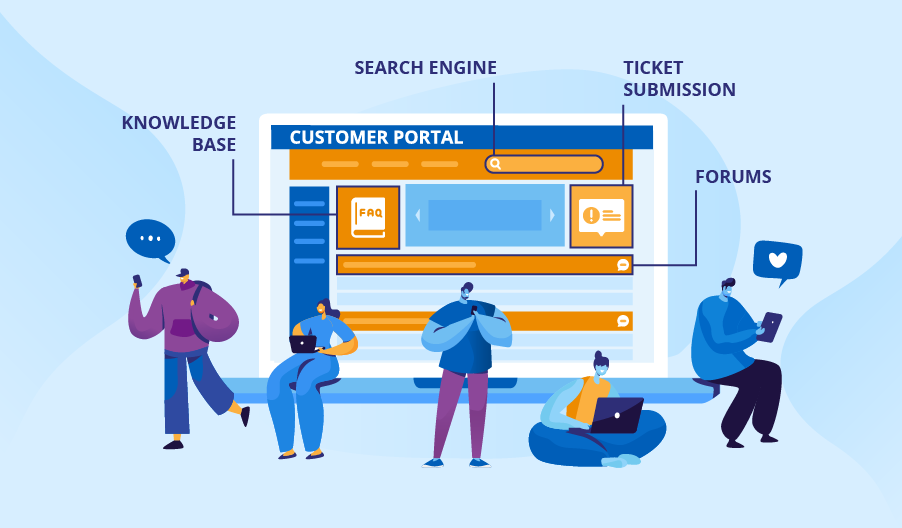 A customer portal is a web-based platform where a client can access the relevant information related to a product or service, be it order details, payment information, or a product description. Key elements of the customer web portal include:
Knowledge base
91% of customers claim that they would prefer a knowledge base over contacting an agent if it met their needs. The portal's knowledge base is a collection of information that customers can use to find answers to their problems or learn about the product/service they purchased in the form of articles, FAQs, installation guides, tutorials, and more.
Forums
Forums allow your clients to easily interact with each other to share tips, use cases, best practices, etc. Your agents can track these discussions and offer their assistance if necessary.
Search engine
The portal's search engine should index all published content and discussions, including text files. Personalized search options contribute to improving a customer journey on the portal and increasing satisfaction.
Ticket submission
If your customers fail to find necessary answers by themselves, they should have an option to submit their request to an agent. That is why you need to include a contact us page on your customer portal with a simple ticket form. This option will allow your clients to easily submit new tickets and track their status.
Increased customer retention
One of the main benefits of the user portal is that you can integrate any information relevant for your customers into it. If your clients can find the information they need fast, their satisfaction with and loyalty to your brand will grow.
24/7 customer service
The customer web portal is available 24/7, so your clients can get in touch with your business whenever they need it.
Reduced agents' efforts
Using the portal, customers can address simple or recurring issues by themselves, allowing agents to focus on more important tasks.
Dynamics 365 Customer Service
Dynamics 365 Customer Service allows you to create a customer portal containing a knowledge base and community forums. Customers can navigate through knowledge articles or find relevant forum topics with the help of powerful search capabilities. What is more, customers can submit requests for assistance to your agents directly via a portal. Before a request is submitted, the system will automatically suggest articles where a client can find a solution to their issue without turning to an agent.
Pricing:
Professional Edition: $50 user/month.
Enterprise Edition: $95 user/month.
More about Dynamics 365 Customer Service
Salesforce Community Cloud
Salesforce Community Cloud enables you to create a customer portal with a knowledge base and community forums using the drag-and-drop editor. Your customers can also post their questions, connect with other customers to share their reviews on your company's products or services. Moreover, your clients can access all their account information, update it, see and pay invoices, create and submit requests.
Pricing:
Community Edition: $2/login or $5/member/month (billed annually).
Community Plus Edition: $6/login or $15/member/month (billed annually).
More about Salesforce Community Cloud
Time to create a customer portal
Today, many customers prefer to discover the solutions to their problems by themselves, without turning to live agents. That is why investing in client portal software can improve the overall customer experience and lead to an increased retention rate. If you want to create a customer support portal, feel free to reach out to ScienceSoft's experts.
Over 14 years, we build and integrate portals with key enterprise systems for smooth sales and service interactions between business and customers.