Your itinerary to software testing outsourcing
If a company is convinced that its skilled and abundant testing resources are ready to meet any deadline and cover any scope of any project, that it has access to the best testing tools and practices, then this company must be unrealistic. Quite frequently, companies face the inability to cover the whole scope of their testing needs.
So, here's where software testing outsourcing comes into play. If you manage to choose a reliable testing vendor, you will get a team of an optimized number and high competency as well as meet your planned deadline. In this article, we are ready to share our QA outsourcing success formula.
Short summary: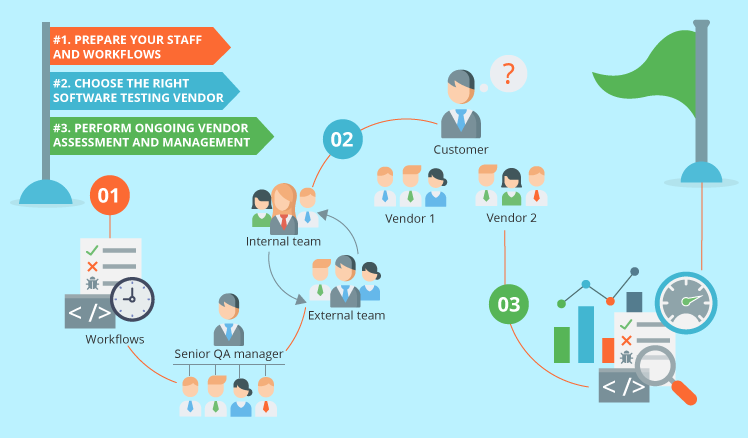 QA outsourcing roadmap
The road to accessible and fruitful QA outsourcing may be long and bumpy, but following this plan, you may avoid most of the obstacles. Here's the roadmap we offer:
Prepare your staff and workflows.

Streamline the workflow.
Assign a QA professional to manage your vendor.
Pave the way for development and testing alignment.

Choose the right software testing vendor.

Consider reliability and expertise, services and resources capacity, self-management and flexibility.

Perform ongoing vendor assessment and management.
Let's see what stands behind each milestone.
Brushing up your staff and processes
Before looking for a perfect match among QA outsourcing vendors, make sure to be ready for future cooperation.
1. Streamline your workflows
The major touchpoints between you and your future QA outsourcing vendor during the testing process are normally software requirements and specifications, existing and updated code, and found and fixed bugs. Before starting to work with any vendor, you should clear out the following:
Where the needed information on each of these three points is stored.
How often such information is updated.
What relevant tools your developers use (development environment, bug-tracking software, etc.).
What bug reporting procedure you find convenient.
Ideal development processes and their full compliance with QA aspects are not possible in the real world and are not required. Still, the more information you provide to a testing outsourcing vendor, the less time the initial partnership formalization will take. In other words, the less expensive your project ramp-up will get.
2. Assign a senior-level QA manager
You need in-house management (at least one senior-level QA professional to manage a team of 20 to 50 outsourced testers) to cooperate with a vendor more effectively by:
Reviewing their test strategy, test plans, test cases, bugs, and test reports.
Organizing updates of software requirements.
Assessing and managing vendor performance and providing relevant feedback.
Making balanced judgments in conflict situations and, ideally, defusing them at the earliest.

Considering risks thoroughly and preparing a mitigation plan.
3.
Motivate your development team to cooperate with an external testing team
Development and testing alignment is one of the most crucial problems in software testing outsourcing, for Agile and DevOps/Continuous Delivery projects particularly. Quite often, external testing teams have to handle reluctance of development teams to communicate openly and freely. The lack of inter-team communication may result in poor understanding of software requirements, late changes of a testing plan, unclear bug reports and, consequently, missed iteration goals and deadlines. So, the assigned QA manager needs to persuade the developers that the only way to create a smoothly operating solution implies cooperation and mutual understanding, decide on a handy communication tool to make on-going cooperation between teams easier and quicker.
Choosing the right QA outsourcing vendor
Here are some key points to look for while choosing a vendor.
Reliability and expertise
Choosing an unreliable vendor may cause disguised 'cheating.' This may mean unjustified testing team augmentation. You may also have to pay for activities that were reported, but not performed or performed partially. A good solution to avoid such situations is to pay attention to vendors' references and success stories. A reliable QA outsourcing vendor should respect testing documentation (test strategy, plans, scenarios, cases, and reports) and give you easy access to their testing artefacts templates. A vendor's competence can be proved by QA software testing certificates (International Software Testing Qualifications Board (ISTQB) or Quality Assurance Institute (QAI) of outsourced testing team members. In addition, a trustworthy company is to work by data security regulations and standards (HIPAA, PCI-DSS), quality and testing standards (ISO9001:2015, ISO/IEC/IEEE 29119).
Sufficient resources and services
While choosing a vendor, mind that an outsourcing partner should have at least 5 times more testers than you need at the moment. Your software testing vendor should be able to perform all testing types (automated or manual; web, mobile or desktop; functional, performance, usability, compatibility, API, security testing, etc.). Even if there is no need in some of them now, when it comes to scaling up, your vendor will be able to ramp up and provide a wider QA and testing spectrum.
Self-management
The main idea of testing outsourcing is to assign the time-consuming and scrupulous testing processes to a qualified external team and focus on the code creation, software design and integration. So, a vendor is to be self-managed to cover everything coming within testing processes: from a test strategy to testing itself. Again, vendors' success stories and testing artifacts templates speak better for this QA outsourcing aspect. In addition, there should be an assigned QA manager on the vendor's side too, for you to have a responsible person to address all related questions to.
Flexibility
In real life, an outsourced software testing team has to handle unexpectedly changing requirements, regression errors, testing plan amendments, missing testing documents that are to be recreated. An experienced vendor is to have their know-hows and best practices to work in this always changing environment. Besides, they should be adjustable enough to live up to your specific internal processes and rules. Their testing strategy also needs to be adjustable to meet the current project's needs and to balance manual and automated testing efforts as introduced automation can shorten the testing time and budget while a number of testing types better remain manual not to compromise the quality of testing.
Assessing and managing the vendor regularly
According to the current statistics, less than a half (39%) of world-leading IT companies feel that they are effective in getting all the benefits from managing their outsourcing relations. So, here are some tips to help you be in this successful statistics' minority and manage the chosen vendors effectively.
The core of vendor management lies in understanding what drives your vendors. Like all market players, a QA vendor experiences constant pressure: operational costs, talent acquisition challenges, problems with other projects. Thus, you should consider that excessive demands for price discounts may result in insufficient resource allocation to your project as a vendor may try to reduce the price by cutting their actual expenses (assigning insufficient or junior staff).
Another thing to mind is that you shouldn't dread to share the information with your testing vendor (within your NDA). To render high-quality testing services, an outsourced team needs to understand your software, business objectives, specific technical requirements, and user expectations.
Regularly assess the vendor
Assessing a QA outsourcing vendor on a regular basis helps to ensure that your company gets exactly what you've aimed at. With these evaluations, you can understand the vendor's current position and competitiveness on the market, decide whether to search for some other vendor or find possibilities to enhance your existing partnership.
Your testing vendor evaluation is to include the most relevant performance and billing criteria. This will give you a multidimensional overview of how effective the vendor is. Here is the sample list of assessment criteria:
The number of missed bugs.
The quality of defect description.
The correlation of testing efforts and outcomes.
The quality of testing documentation.
The capacity and availability of resources.
The efficiency of testing tools.
Your QA manager needs to extend this set of reference points with more specific characteristics relevant to your software testing project and potential problem points.
Manage vendor performance
So that your software testing outsourcing vendor continues to render their services at the same level or step up, your dedicated QA manager has to supervise their performance. They need to review testing documentation at least once a month. They also have to provide the testing team with regular feedback, detect hidden wasteful steps and cost drivers, align your business practices with the vendor's and uncover the root causes of testing process complications.
In addition, you should mind that vendor management is to meet your actual concerns. For example, if you suppose that a vendor doesn't play fair and may charge you extra, you should insist on additional detailed performance reports, and your QA manager has to review them with particular attention. Besides, if the testing efforts scope is stable, the QA manager may ask a vendor to consider implementing test automation to reduce the testing time and costs.
In case a lot of bugs are missed or unclearly reported, your QA professional should provide the vendor with the relevant feedback for them to eliminate the real reason of these faults. The most common cause of missed bugs and unclear bug reports is business requirements and software functions misunderstood by the testing team. So, to be sure the outsourcing testing team does understand the intended software functions and business requirements, the QA manager can organize ad hoc interviews among them.
When it comes to changing your long-term QA vendor, it shouldn't interrupt your business processes and require too much time and budget. However, your current vendor may unintentionally and still seriously complicate vendor replacement by neglecting testing documents or using the frameworks and tools that got outdated in time. So, not to be locked in with a single vendor, ensure that your test artifacts are sufficient and tools are up-to-date.
Consider multivendor strategy
Vendor performance assessment results may turn out to be alarming: your only vendor's testing quality doesn't meet your expectations, they allocate incompetent testing staff, their capacity is insufficient to meet your needs or the testing documentation is poor. In this case, your whole project is at risk since you strongly depend on one vendor. Thus, it may be relevant to consider a multivendor strategy. This strategy implies involving a number of vendors and making each of them responsible for a separate project. This makes vendor replacement much easier, but the strategy is not a universal lifesaver.
The multivendor strategy requires certain project and business scale. A project has to require at least 30 outsourced testers to be worth the time spent on search and management of several vendors.
Another thing to mind is that one in-house QA manager is not enough to manage multiple vendors. The dedicated person will have to deal with numerous test strategies, plans, bugs, reports, requirements as well as different amendment and escalation procedures. So, you will need a number of in-house QA professionals able to manage vendors separately and a head of the in-house team to coordinate them and make sure all testing teams work in sync.
Key takeaways
Software testing outsourcing is not a tricky process if you know what to expect from it. The whole scope of testing outsourcing can be put as simple as that: preparation, making a prudent choice, regular assessment and management. This is to be your success formula spiced up with an appropriate risk mitigation plan and an opportunity to use the multivendor strategy if applicable.