Editor's note: Daria shares her knowledge of sales portals and overviews key benefits this solution can provide. If you need assistance in implementing sales portal software and adjusting it to your business specifics, don't hesitate to ask for our web portal development assistance.
Your sales team and partners (resellers, distributors) all make up your sales force. And you need to make sure that they have all the tools and information to interact with prospects professionally and promptly add to your sales effectiveness. A sales portal can target all parties involved in your sales process, bringing convenience and consistency to different stages of your sales cycle.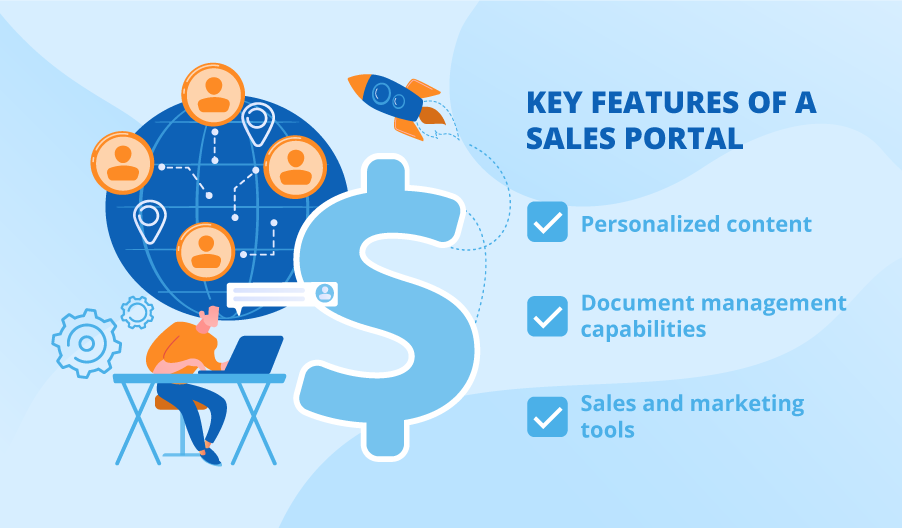 A sales portal: summary
A sales portal allows your internal sales teams and external partner companies to get access to and manage the sales content (e.g., sales presentations, product descriptions, videos, FAQ's) to prepare for and successfully perform sales activities.
There are several types of sales portals depending on who uses them. In this article, we will focus on sales portal software for sales teams (internal) and partners (external).
Sales portal software examples
There are several approaches to building a sales portal, depending on your company's size and the complexity of sales processes. For a small retailer with one in-house sales team, it may be enough to use a shared drive. A large manufacturer with a complex non-linear sales process and a partner network may need a custom-developed portal managed by a separate team.
What can be used as a sales portal:
A file-sharing system (e.g., Google Drive, Dropbox).
Marketing automation platforms (e.g., Marketo, Eloqua, Pardot).
Content management platforms (e.g., WordPress).
Sales enablement software (e.g., Whatfix, Seismic, SalesLoft).
A custom-built portal.
Benefits you get with a sales portal
1. Sales content stays relevant and organized. Your marketing, sales, and partner teams get access to a repository of marketing and sales materials and can collaborate on them. When there is a single place to store documents, they are sure that they always deal with the most up-to-date document version.
2. Your sales team get back to prospects quickly. When your sales reps have all the materials at hand to present a product or a service in the most winning way, they have more chances to close the deal faster than competitors do. It's important to structure a sales portal properly but also to give convenient filters for users to locate relevant materials quickly.
3. Sales portals are both extensible and affordable. Your business is growing, so your sales portal has to do the same and match the needs of your sales team. Good sales portal software allows you to extend and improve it when needed.
Key features of a sales portal
1. Personalized content that varies automatically depending on the user role will help you automate the process of price negotiation. For example, you may have a page with different partner price lists for retailers and wholesalers. Having registered on your sales portal, each will see a relevant price.
2. Document management capabilities include, for example, version control of your documents (e.g., product presentations, white papers, case studies). The documents may be updated dozens of times, so you need to be sure your sales portal always has the latest data, without the need to manually replace and archive outdated files.
3. Sales and marketing tools allow you to register opportunities, accumulate qualifying questions for leads, and enable communication with potential customers. You can also provide your reps with access to approved marketing materials (branding guidelines, press kits, etc.) and create new materials for customers, as well as sales training materials.
Time to build your sales portal
As a rule, the bigger your business becomes, the less likely manual processes will meet your objectives. If you are looking to boost sales and need professional advice as for how to organize more effectively your sales processes, don't hesitate to contact ScienceSoft's team.
Check the service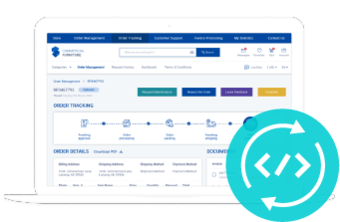 Web Portal Development by ScienceSoft
In web portal development since 2005, ScienceSoft's team will deliver a tailored portal solution fully in line with your business needs.