Editor's note: Serge shares tips on extending your fleet management service portfolio with fuel management capabilities. And if you decide to implement a fuel management solution, consider turning to our offer in software development.
The second-highest expense for fleets, fuel constitutes as much as 23% of total vehicle operating costs. No wonder fleet owners search for ways of monitoring and optimizing fleet fuel consumption. And as a fleet management services provider, you can catch an opportunity and let vehicle owners efficiently track fuel usage.
I recommend extending your service portfolio with fleet fuel management backed up by dedicated software. This recommendation is based on my experience in leading ScienceSoft's fuel management software development projects and witnessing the improvements our customers' clients achieve with fuel consumption monitoring applications. Fleet owners manage to reduce fuel consumption by 8% on average. For, say, a 500-vehicle enterprise with an annual traveling distance of approximately 24,000 miles per vehicle, the reduction of fuel consumption by 8% translates into approximately $200,000 in savings.
Below, I answer two questions related to rolling out fuel management applications to ensure that your new service option will be as beneficial for you as for your clients:
What deployment model promises an optimal ROI?
What features should you offer to meet your customers' fuel management needs and keep your investments on point?
You may choose to offer ready-made software with fuel management capabilities or develop your own fleet fuel management SaaS product.
Ready-made software with fuel management capabilities
The undeniable upside of a ready-made fleet management solution is software updates and support included in your subscription fee so that you will always be sure that your customers get access to the latest application functionality and their requests and troubles are timely handled.
On the other hand, ready-made solutions can rarely meet the needs of all customer segments, while customizations are usually costly to implement. Moreover, the majority of off-the-shelf fuel management software providers charge per vehicle, so if your customer base is extensive and varied, be ready for a sizeable check.
To my mind, it is reasonable to opt for this option if you have up to 50 customers with a small to average fleet, and your customers' fleets are subject to similar requirements.
Tailored fleet fuel management SaaS
As an alternative, you may consider developing your own SaaS with fleet fuel management capabilities or, if you already offer a fleet management application, extend it with a relevant functional module.
The benefits of this option include the possibility to tailor the application to the needs of specific customer segments with different fleets and regional labor requirements. You can also offer a reliable application integration with your customers' ERP and/or accounting systems, which is important for well-rounded fuel economy calculation.
For many businesses, a critical downside of this option is the expense required to get a tailored application running. However, my experience shows that the earlier you engage in development, the earlier you eliminate the expenses you pay to a third-party software provider or spend on supporting legacy software. And with more fitting functionality and easier customizations of your fleet fuel management application, you get an opportunity to increase revenue and acquire more customer segments, hence, get quick ROI.
The generalized experience of fleet management services companies shows that having developed their own fuel tracking application, they increase the level of customer satisfaction by 50% on average and achieve positive ROI in 11 months or less.
A number of factors influence fuel consumption – from driver behavior to vehicle condition and the choice of routes, so your fuel management app can be potentially packed with numerous features. To help you keep your investments or future subscription fees on point, I share some proven features you can implement in the first place.
Integration with fuel cards
Such integration is probably the best way of tracking and managing fuel consumption. It allows fuel consumption data to flow directly to the cloud-based back end of fleet management software from the time of fuel purchase, without the need for manual data entry.
This feature provides an opportunity to automatically calculate such fuel economy metrics as miles per gallon and gallons per miles for each vehicle using the data from fuel cards, as well as create custom reports. With these insights, your customers will be able to get an overall/mile fuel cost for their vehicles and pinpoint irregular fuel purchases.
Driver behavior and speeding monitoring
Speeding over 50 mph makes fuel consumption go up, which equals paying an additional $0.20 per gallon for every 5-mile-per-hour increase. Thus, staying under a set speed limit, drivers not only stay safe but also save fuel. Speeding monitoring allows speed data to automatically become available in a fleet management application, so that fleet owners can pinpoint drivers habitually exceeding set speed limits and get an opportunity to reduce fuel usage by 5 to 10%.
An engine idling for just an hour can burn up to an entire gallon of fuel. Engine idling monitoring can alert fleet owners whenever a driver has an engine on before and after work or during breaks. And with engine idling monitoring, fleet owners can save approximately $6,000 per vehicle annually.
To illustrate how the features described above combine in an application, let me draw on an example of a fleet management platform with fuel management capabilities ScienceSoft has delivered for a customer, who wanted to launch a new product geared towards logistics companies.
The platform features the integration with selected fuel card providers, so that every fuel purchase transaction becomes automatically available in fleet management software and in fleet owners' ERP systems. The platform calculates the fuel economy for each vehicle and presents the calculations in the form of reports. The reports can be configured to display fuel consumption in aggregate, by location, fuel type or vehicle in a preferred unit of measurement.
Due to the introduction of fuel tracking, fleet owners can detect irregular fuel consumption patterns and reduce fuel theft. After rolling out the product, our customer improved fleet owners' satisfaction with the fleet management services and expanded their client base.
With dedicated fleet fuel management software, you get an opportunity to improve customer satisfaction by 50% on average and acquire more fleet owners. If you think you're ready to expand your product portfolio with a fleet fuel management application, fell free to contact ScienceSoft's software development team for a personalized implementation strategy.
Learn more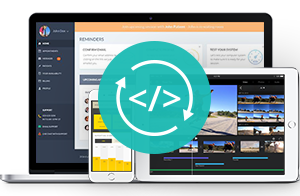 Custom Software Development
Our strong BA team, handpicked developers and proven PM practices get your tasks solved with software that brings maximum benefit and optimal TCO.