Virtual Reality (VR) Software Development
Virtual Reality (VR) development services focus on the implementation of software that allows users interact with simulated environments. With its 32 years in software development and 25 years in 3D modeling, ScienceSoft delivers competitive VR software with high and fast user adoption.
Let Virtual Reality Bring You Actual Success!
Start planning your unique VR app development project to secure your loyal user base on the booming VR market.
Industries We Develop VR Software for
Surgery simulations
Psychological therapy
Gamified rehabilitation
Immersive training
Immersive research
Virtual design and engineering
Training
Maintenance guidance
Gamified ads
Virtual events
Virtual tours
Virtual art installations
Driving simulators
Flight simulators
VR Development with ScienceSoft in Figures
cost reduction compared to in-house VR app development
faster 3D model design due to the use of scripts
users are fully satisfied with the final VR application
Our Customers Say
Supponor is a global leader in the development and delivery of virtual advertising solutions for live televised sport.

ScienceSoft's C++ developers have been assisting Supponor in the ongoing development of the software for the past 11 years. Over this time, they have become an indispensable part of our team. ScienceSoft's experience in cross-platform, real-time systems, and computer graphics as well as their robust skills in integrations across a wide range of highly specific hardware helps to ensure consistently high performance and wide compatibility of Supponor's products.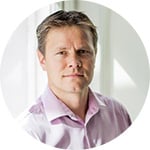 Vesa Suontama, CTO, Supponor
More Perks of VR Development with ScienceSoft
Secure and rewarding investment
By conducting a feasibility study and a free project estimation at the very start of cooperation, ScienceSoft makes sure your investments will yield return.
If needed, we can provide technical product management consulting to create a risk management plan and minimize any potential financial losses.
Use of advanced tech components
Our cross-domain experience lets us include cutting-edge technologies in the VR applications we develop:
IoT (sensors, cameras, controllers, IoT gadgets)
Artificial Intelligence (deep learning and natural language processing algorithms)
Computer vision
Voice recognition
Eye tracking analytics
Video streaming.
Technologies We Use
Tethered VR

Standalone/Mobile VR

Software Toolkit
VR engine
Amazon Sumerian (HTML, CSS, JS)
3D modeling
Simulation modeling
Back end programming languages
Click on the technology to learn about our capabilities in it.
Our Virtual Reality Development Services
We help you finalize both detailed and high-level VR software concepts as we:
Gather and analyze your needs.
Formulate technical requirements and features.
Help you choose VR equipment with your budget in mind.
We plan out an individual software architecture to ensure that your VR application will have:
High performance​.
Fast scalability.
Easy configurability.
When creating VR content, we apply such immersion-improving elements as:
Highly realistic visuals.
Kinesthetic attributes.
Engaging animations.
Our large and experienced team of VR engineers delivers smooth VR experiences by:
Making use of motion/eye tracking and computer vision technologies.
Introducing intuitive interactivity and realistic sound acoustics.
Optimizing back ends for high-load VR processes.
To guarantee the quality of your VR application, our testing engineers:
Run unit tests.
Combine manual testing with automated tests.
Provide detailed test documentation.
VR software support and evolution
We maintain and evolve your VR application to keep it competitive on the market.
Don't Let Your Unique VR Software Lose the Race
The VR market is estimated to reach $20.9 billion by 2025, but your best chance to outcompete rivals and get your VR software out there is now. With ScienceSoft's VR competencies and expertise in product development, you are guaranteed to deliver a one-of-a-kind, high-quality VR application.

Develop VR software from scratch

Win the market with your original and innovative VR application.

Modify existing VR software

Make your existing VR software more competitive by adding cutting-edge features.

Introduce VR in existing software

Extend your user base and raise engagement by adding VR to your software.

<![endif]--> <![endif]--> <![endif]-->