Leverage Rich Capabilities of SharePoint Online
Fill in the form below, and our rep will come back to you in 30 minutes to schedule an initial discussion of your SharePoint Online migration project.
With SharePoint Online, you will get:
30% higher user adoption.
40% lower maintenance costs.
10% higher overall business productivity.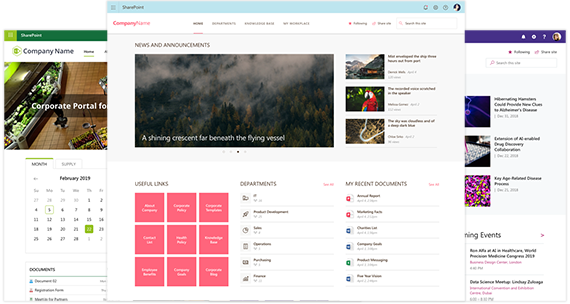 Our Offices
United States
5900 S. Lake Forest Drive Suite 300, McKinney, Dallas area, TX 75070
+1 214 306 68 37
contact@scnsoft.com
Europe
2 Myyrmäenraitti, Vantaa, ZIP 01600, Finland
+358 92 316 30 70
eu@scnsoft.com
Gulf Cooperation Council
Fujairah - Creative Tower, POB 4422 Fujairah, United Arab Emirates
+971 585 73 84 33
gulf@scnsoft.com
Our Customers Say
We cooperated with ScienceSoft on our company intranet project. Their work will help us achieve a higher level of communication with our diverse workforce. We have already seen an increase in event participation and use of the tools built into the site which allow the employees to have a greater part in self-managing their needs.
Denise Yarian
People and Culture Manager,
Autosoft DMS

For half a year we relied on ScienceSoft SharePoint competence to reinforce our team working on a Pharmaceuticals portal based on SharePoint Online. The remote cooperation ran very smoothly, as both parties shared the common vision of the project scope.

Tim Bogemans
Managing Partner,
Cogn-IT
We required specific SharePoint customizations as well as an assurance that frequent Microsoft updates wouldn't disrupt the design. ScienceSoft expertly met these requirements and their delivery on countless details and change requests were lightning-fast and their communication excellent.
Amanda Oliva
SharePoint Functional Analyst,
Bentley Systems

We would like to express our gratitude to ScienceSoft, our vendor for providing Salesforce-SharePoint integration. ScienceSoft has proved to be a reliable vendor with multi-disciplinary expertise, able to deliver seamless system integration that brings efficient customer communication and improved user experience.

Raul Ramos Ojeda

CEO,

Isatel Group

<![endif]--> <![endif]--> <![endif]-->