<![endif]-->
<![endif]-->
Smart Image Uploader for SharePoint and SharePoint Online
What is Smart Image Uploader?
Add visual content to your SharePoint intranet easily with the Smart Image Uploader add-in for SharePoint 2013, 2016 and SharePoint Online. Smart Image Uploader will allow you to upload pictures directly from your computer or Google Images search results to a SharePoint library. This add-in replaces the standard Picture URL field view on the New Item and Edit Item pages for any list on a SharePoint site.
How to Get the Add-In?
You can download Smart Image Uploader from the Office Store for $3.99.
How to Configure the Add-In?
1
To start using Smart Picture Uploader, go to the add-in settings page and select a picture library to get images from.
2
Click Apply to all. It will apply the settings to every Picture URL Field on the target website.
Smart Image Uploader Tips
If you see an empty list of picture libraries, please create a standard picture library on the target site and reconfigure the add-in.
If you want to stop the add-in, click Remove from all.
If you add a new Picture URL field to a SharePoint list on the target site, reconfigure the add-in once again to apply its functionality to the new field.
How Does It Look like?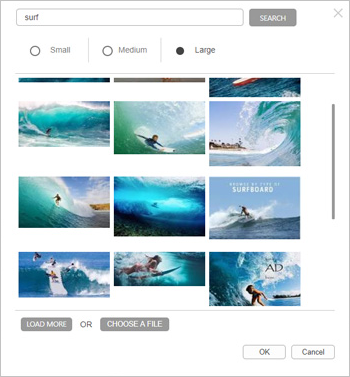 Limitations
As Smart Image Uploader uses free Google Custom Search API, users can make up to 100 searches per day only. For more information please refer to Google custom search.

<![endif]--> <![endif]--> <![endif]-->