Working with Magento since 2011, ScienceSoft has devoted these years to in-depth study of the platform and its customization potential. We know for sure – in the right hands, Magento is equally powerful for B2C and B2B ecommerce. We appreciate the difference and develop Magento B2B solutions with due regard to the business specifics.
Why ScienceSoft
16 years in ecommerce development
8 years in Magento development
Magento Solution Partner
Certified Magento developers in the team
Magento 2 expertise
The Power of Our B2B Solutions
With top priority on your relationship with customers, we ensure that rich functionality and strong customer focus serve as a base for a long-term and trust-based cooperation. Starting with outlining a strategy and moving to designing and developing your B2B solution, we implement the following features to reach the goal:
B2B Ecommerce Portal Demo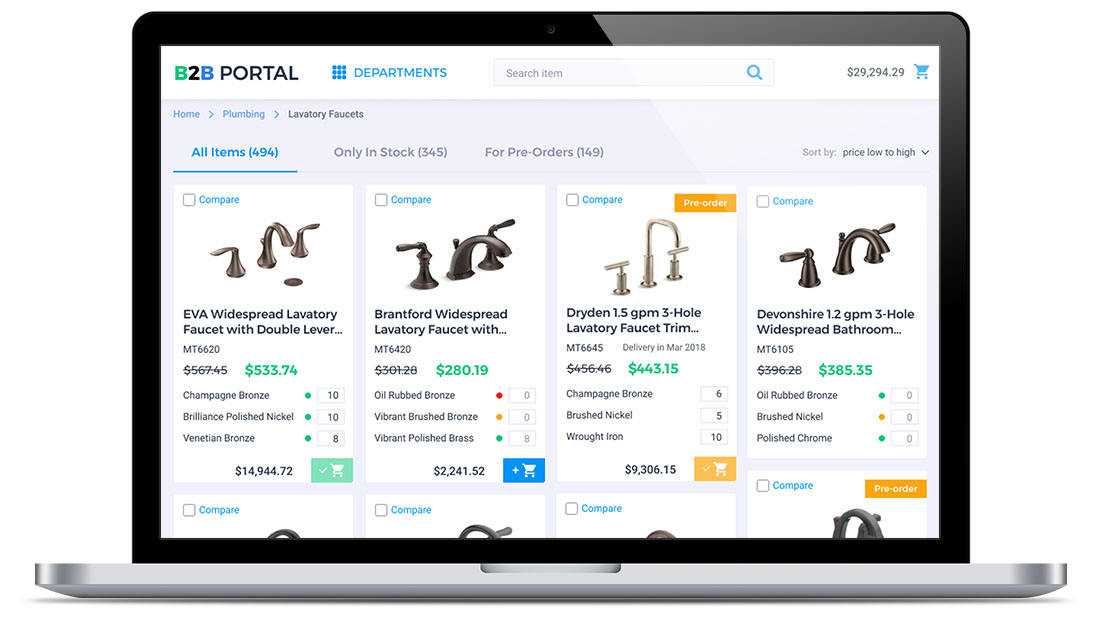 What We Offer
Involved in a full-cycle Magento B2B development, we take care of each stage of your ecommerce website implementation. As a result, we ensure that:
Your B2B solution functionally meets all your requirements. Though Magento is rich in B2B capabilities, you don't need to stay within the default functionality only. Unveiling your true vision, you inspire us to customize the platform accordingly. With 8 years in Magento development, out team feels confident about achieving the desired result in full accordance with your needs.
Your B2B solution goes in line with your corporate style. For success, visual presentation is no less important than functionality. As your customers need several seconds to stay with you or decide to leave, every detail matters. We engage UX and UI designers to make your Magento B2B solution both appealing and intuitive for buyers. Feel free to bring your corporate vision so that we could adhere to it in the process of design development.
Your B2B solution scales with your business. You need to adapt your website to changes as the company evolves. Whether incorporating new features or adding custom integration along the way – we are always here to reconcile current business goals and functionality.
Your B2B solution always has an expert support team standing behind your business. Once your B2B website goes live, our Magento maintenance and support services come into play. You don't need to care about technical aspects of your business and may entrust this task to a team of experts. What you get as a result is sustained follow-up maintenance, regular website testing and monitoring for malfunctions as well as prompt fixing of performance issues. Meanwhile, you can focus on your business strategic development.
Start Your Magento B2B Journey with ScienceSoft
Whether you are just diving into B2B ecommerce or unsatisfied where and how your existing business goes – we look forward to offering our Magento expertise and creative thinking to make your solution pay off. Feel free to contact us for a more focused dialogue.