Customer
An Australian company specializing in IT solutions for retail industry.
Challenge
Being an experienced in application development, ScienceSoft started with analysis of customer requirements. After that we have examined market offering and proposed an elegant solution that combined innovative parking guidance software with sales-boosting application.
Solution
Statistics shows that drivers spend a lot of time trying to find a vacant parking space. Parking guidance software is able to help users resolve this problem.
There are two main types of parking guidance solutions that exist nowadays:
Available parking spot signs (normally placed at the entry to the parking facility) and
Vacant space indicators (a system of sensors and indicators that change from green to red when the car is parked).
Still those are very basic approaches towards guiding drivers at a multi-store parking. ScienceSoft's team went further: we developed a system that allows a driver to find a vacant parking space. We also built a powerful marketing tool on top of that.
Parking guidance solution

Here is how the parking guidance feature of the application works.
The user downloads an application when entering a multi-story parking facility. The downloaded app works as a navigator, allowing to:
Drive to a destination point – selection of free parking slots available on the map;
Remember the car position – similar to "home" or "favorites" function in navigator;
Navigate to the place of interest, like shop, restaurant, or emergency exit.
The specifics of the solution is that it uses a network of beacons allowing an application to work as a GPS navigator, even if there is no GPS signal available.
Sales-boosting tool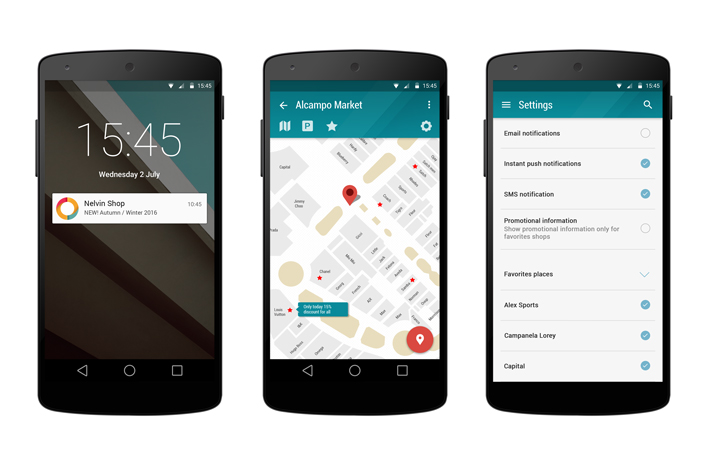 The monetization of the application was ensured by the second part of it, i.e. sales-boosting tool for the retailers. Mobile application downloaded by the user is attached to the global shopping mall loyalty system. This is a so-called marketing platform for those retailers that run businesses in the mall: shops, restaurants, cinemas, etc.
Here is how it works from the retailer viewpoint.
Dedicated working spaces. Each retailer has its dedicated password-protected working space. When the company marketer enters the marketing platform, he/she receives an access to the potential consumers' audience.
Statistics module. System collects data about the parking guidance mobile app users, such as:
Their interests, behavioral patterns and preferences.
On what type of promo campaigns they respond better.
Responses to the specific questionnaires.
Marketing campaign setup. The marketing platform has a functionality allowing marketers to set up a marketing campaign with tracked results, metrics, conversion rules, etc. They can deliver promo information to consumers using:
Instant push notifications.
Email campaigns.
Geofences triggers.
When a marketer sets up a promo campaign for a specific target audience, he/she is using so-called "markers" to track the response. For example, a user should provide a phone number or show the installed app to receive a discount. When new campaign is introduced, a marketing platform analyses the information and limits a number of campaigns per user to avoid customer dissatisfaction.
Here is how it works from the consumer viewpoint.
The user enters the shop. He has a shopping mall map pre-installed to his mobile phone after downloading a parking guidance solution. After that, he can find the closest way to his favorite shop and also enrich his shopping experience by receiving information about various promotional campaigns selected specially for him/her. There can be different types of promotional materials distribution:
Informational "hot deals". There is a list of advertisements assigned to the shops on the map. The user can navigate to the shop in the shortest way. He can also apply the promo code when using the discount in the shop.
Instant push notification on specific events targeted for a particular consumer. Those can be online and offline notifications. When the person is in the shop, he/she can receive a push notification to ask for a discount flyer for future purchases at the check out.
Email notification. When the person is outside the shop, he is receiving promo information by email.
Geofence triggers. When a user gets to the "geofenced" floor or area, he receives an advertisement, if he is a part of the target audience. For example, when man enters the female lingerie area, the app ignores him since he is not a target audience.
3D compass and augmented reality. A user can be automatically navigated through the mall to the required store. During navigation additional advertisement hints can appear in the application, when a person points application camera to real objects.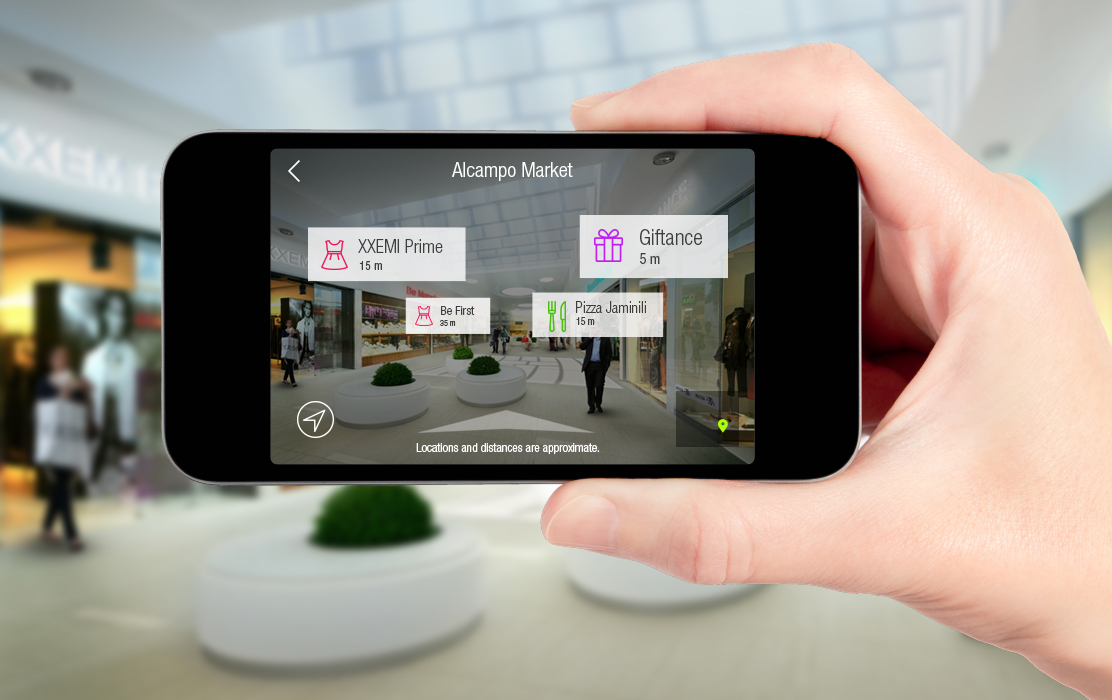 Application provides a possibility for the user to moderate the advertisements. He can create a list of the shops, about which he wants to receive information. Users are able to create and modify their shopping lists by using external database located on the server. When users create a new shopping list, they can use "history", "auto suggestion", "favorites" functions.
There are also many standard features that are commonly used in many shopping applications, such as products search, loyalty cards, local-grown products information, store map, favorites, recent items, sharing lists etc.
Technologies and Tools
Mobile: iOS SDK, Android, SQLite, Bluetooth API, REST.
Server: Microsoft Azure, ASP.NET MVC, RIA Services, ADO.NET, Entity Framework.