A report by research2guidance says that only 15% of mobile apps target health professionals. Not that many, as most of the uploaded applications pursue only the number of downloads and fast revenue, setting aside a practical use for providers. Sadly, quality frequently exceeds quantity in app stores, that's just how it is.
Thankfully, there are dozens of lists that sift through the hustle and review only acknowledged hospital apps for doctors on the web. But the tricky part is that the items are organized around an author's opinion, not physicians' requirements. Moreover, a lot of applications mimic each other, adding just a few new features or revamping the old ones. Hopping from one to another just to close the gap is also exhausting.
Therefore, we took a different approach to help health specialists navigate in the sea of doctor apps with ease and confidence.
We review the functionality doctors need to accomplish daily tasks. By matching the features from different categories, they can either find the set of their go-by apps or communicate the need to create a branded application for their healthcare organization, because one size won't fit all.
Elements of the ultimate doctor app
Everybody's need for mobile support is unique at the point of care. Some physicians crave for a robust all-capable app, while others feel like getting a range of apps for different assignments. We cover all cases by creating activity-focused criteria that will feature both multi-tasked and short-scoped apps.
Patient management
One of the primary reasons to finally get a medical app is to facilitate patient management from the first appointment or the moment of admission up to the end of the care cycle. Physicians can't be tied to the desktop, spending irrational amounts of time on getting back to the office for checking schedules, updating examination information, ordering tests or getting notifications about freshly admitted patients. It is counterproductive, to say the least.
To master remote patient management, physicians need a simple yet functional solution with the basic tools for full care cycle support. Particularly, we expect the following features within a patient management app:
Scheduling with editing and shift exchange capabilities.
Full patient lists with charts.
Examination support via access to CCs, histories and allergies.
Order overview, ability to make orders on tests and medications.
Real-time updates on lab tests, radiology reports and pathology reports.
Remote discharge option with e-signature and post-treatment templates.
In our hospital app demo, we show the concept of mobile convenience in day-to-day operations for a physician. Here's a screenshot featuring patient dashboard: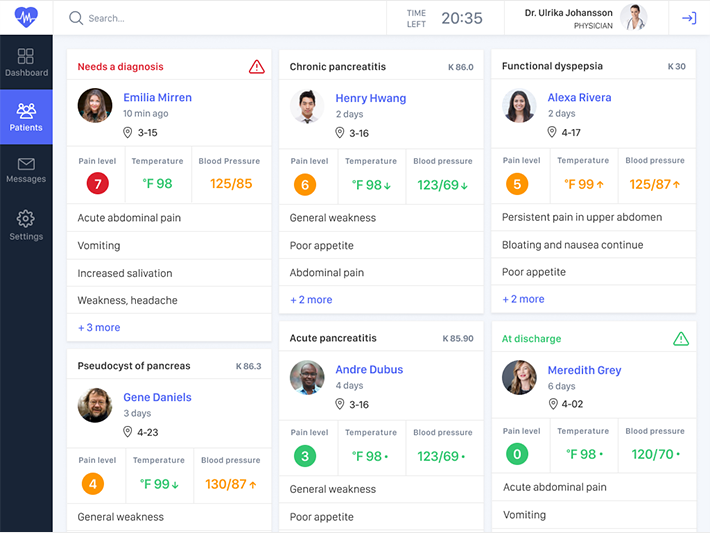 The market offers a bunch of applications both from EHR vendors and third-party publishers. For example, Cerner created PowerChart Touch, Allscripts issued Allscripts Remote + and Epic came out with Epic Haiku.
Speaking of outside applications, we think that SAP EMR Unwired, Care360 Mobile for Physicians, Virtual Practice for Doctors and Sunrise Mobile MD II might be a good fit for the cases when physicians don't use an EHR from a major brand or want to consider a more budget-friendly alternative.
There's also a path to custom apps if physicians' needs either surpass the basic functionality allowed in out-of-the-box solutions or the out-of-the-box apps just don't feel as convenient as they should be. Major EHRs are frequently blamed for their cloggy nature, but their mobile shortcuts have to be different. Otherwise, physicians get yet another unusable product falling out of their workflows.
Diagnosis and decision support
To reassure that each clinical decision is made in patient's interests and won't harm their health, physicians can think about using an app with diagnosis support functionality. Since doctors should continuously improve their expertise and apply it to their patients, they have to be aware of evolving evidence-based medicine, new research, drug approvals and black box warnings within their area of specialization.
Therefore, the diagnosis and decision support category of apps includes the functionality that can support faster and more accurate diagnostics as well as update physicians on relevant information in their field. The features we can expect from such application include:
Symptom checker.
Disease and condition references.
Basic treatment plans for common diseases.
Reference on multidrug interactions.
Dosing suggestions and calculators.
Feed with published researches, new trials and other evidence-based medicine highlights with the ability to filter them according to specialty.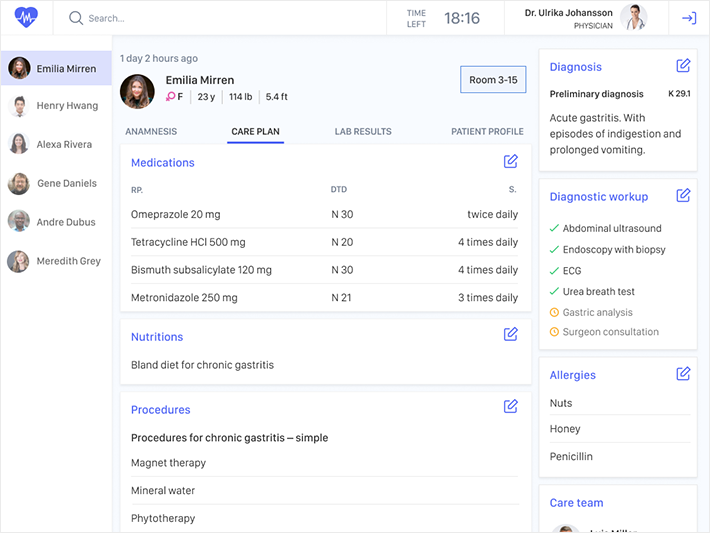 Within the range of applications that can offer such functionality to physicians, we can suggest trying PEPID, Isabel, DynamedPlus, Skyscape and UpToDate. There's also the Calculate by QxMD App that concentrates on medical calculators only. With the narrow-focused functionality, it still allows to predict risks and possible complications, so we advise trying it as well.
Lab results
We would also like to discuss the functionality related to lab results. Although it can and should be a part of bigger hospital apps, physicians might not have any access to comprehensive applications and have to find workarounds to stay on informed side.
To get physicians on this side, we can assume that the app should contain:
Library of lab tests with definitions and references.
Normal/abnormal result guidance.
Availability of results for various systems, including hormones, nephrology, tumor markers, pulmonary, etc.
Option to access different chemistry panels (liver panel, lipid profile, diabetic profile, arterial blood gases and more).
Overview of related symptoms.
Filtering according to testing source/specimen or lab type.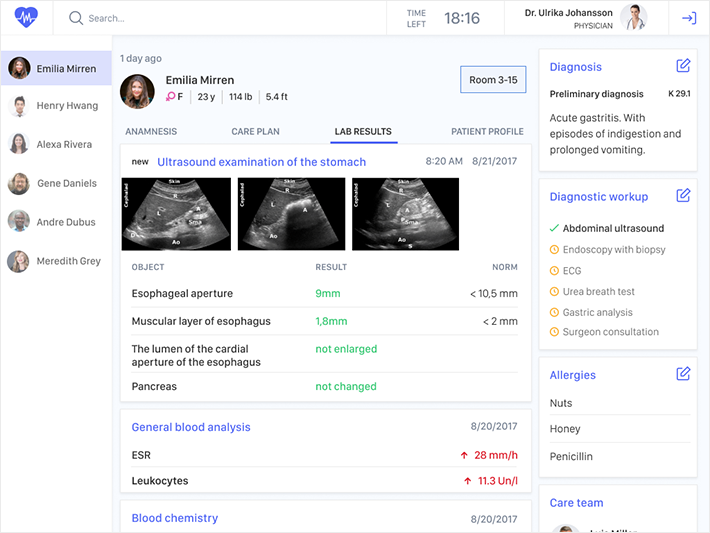 LabGear and Lab Values+ feature the functionality above and target only laboratory-oriented pool of knowledge, whereas Epocrates is a more general app for communication with other physicians, drug information and interactions advice as well extended capabilities of lab results guidance and disease reference.
Telehealth
Another priority for doctors is the ability to provide their patients with remote care. While reimbursement policies are still under question, the telehealth field evolves at a fast pace. Apart from direct financial benefits, it allows doctors to help their patients earlier, which helps the healthcare organization keep top reputation and win patient loyalty. It's already enough to get a corresponding application.
Speaking of functionality, the following features are desirable:
Patient's chief complaint and medical history summary.
Text messaging.
Voice messaging.
Video conferencing.
Sharing options (photos, text documents, etc.).
We can name a few apps that enable a wide range of communication channels between doctors and patients, such as Virtual Practice for Doctors, Teladoc, American Well and Doctor on Demand.
Care coordination
Sometimes, a patient's health condition is as comprehensive as common cold. But too frequently it is an entangled puzzle impossible to solve when playing solo. In more complex cases, a patient has to visit up to 10 specialists for the correct diagnosis. If these health professionals don't interact with each other, none of the care cycle participants will be on the informed side.
This is where care coordination comes in handy. It cuts on repeated tests and procedures as well as allows physicians to collaborate on treatment and make sure that all medications interact well with each other. For collaboration among physicians, the following features are needed within a doctor app:
Health information exchange functionality with CCD import and image sharing.
Access to the patient's timeline with all procedures and tests taken.
Quick chat.
Voice messaging.
Video conferencing.
Scheduling for knowledge exchange sessions.
Usually, such applications are custom, but some large EHR vendors and third-party developers do offer a few ready-made options, for example: Yosko, CareAware Connect from Cerner, Spok Mobile and PatientTouch.
Top 3 concerns to consider
Finding a functional and convenient app is not all. There are at least three major roadblocks to overcome for successful use of doctor apps.
Integration with EHR
This one is critical to app adoption, as without solid and secure data sync between the app and the provider's infrastructure most of the functionality is inaccessible or useless. For patient management applications, this situation is partially solved if the healthcare organization uses one of the major EHRs, supplemented with their mobile app.
But as not every provider uses an EHR from the range of household brands, then the question is if a smaller EHR vendor can allow integration with a third-party app. If not, they can offer their own solution in case the demand is high enough.
If real-time synchronization is impossible, the CCD import option comes to the rescue, but to a certain extent only. Physicians need mobile applications to create shortcuts within their workflows, not to waste time on re-entering patient information from app to app. If the symptom checker is in one app, lab results are somewhere else and care coordination is in another stand-alone app, additional information transfer is too consuming in terms of time and doctor's endurance.
HIPAA compliance guarantee
Everybody has to be sure that patient data is safe and secure across doctor apps that physicians use on a daily basis. This can be the reason to choose or create a more consolidated solution, not dispensing sensitive information between four or five apps, especially if they are from different vendors.
Of course, when no personalized patient data is used for dosage calculation or symptom checking, HIPAA compliance is ensured by default.
Still, as doctor apps are designed to help physicians across the care continuum, some patient data is needed at every stage. Healthcare organizations have to trust their mobile vendors and be aware of the applications used by physicians on a daily basis. Which brings us to the last concern.
BYOD policy
The BYOD policy presumes that physicians bring their own smartphones to the clinic and use them in their work. It benefits healthcare organizations, because they usually cannot supply every health specialist with a device, even though they would gain great value from mobile tools.
Still, this policy can possibly compromise patient data. The way to avoid it without spending the budget on work-only devices is creating a secure proprietary infrastructure of applications that physicians will use. However, it needs to include all features we discussed above, so that health professionals wouldn't have to resort to other solutions.
Afterword
We reviewed the most demanding areas of physicians' workflows through the lens of mobile functionality and found a number of doctor apps that can support care delivery from the first appointment to diagnosis, treatment and beyond. However, there are also a few pitfalls that have to be considered when choosing a suitable application.
As the market for doctor apps will grow, healthcare organizations have to decide whether they would make a step towards the needs of their physicians now and help them add more flexibility to daily tasks, or wait up until doctors organize their processes themselves. In the last scenario, patient data can be at risk of exposure. Thus, we recommend to control the situation and assist the doctors in facilitating their routine work.