Editor's note: Learn about the specifics of tier 2 help desk, common tasks tier 2 help desk specialists deal with, and find out why outsourcing this support level is worth considering. If you don't consider hiring and training tier 2 help desk specialists in-house, you are welcome to check our help desk outsourcing services.
Tier 2 help desk deals with technical issues of medium complexity and can be internal (handling employees' problems) and external (managing customers' issues). Effective internal tier 2 help desk guarantees that technical problems will not disrupt your employees' work and lower productivity. In its turn, external tier 2 help desk contributes to increasing customers' satisfaction with your brand, thus improving customer retention.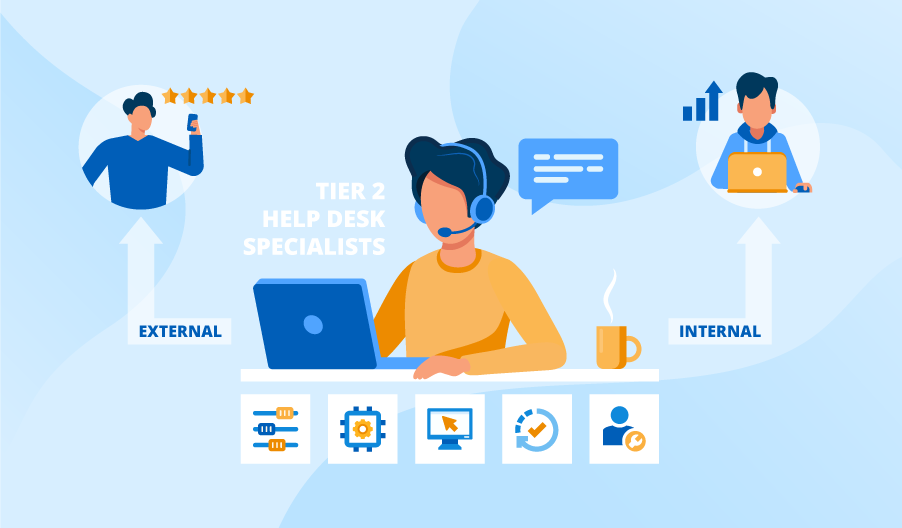 Tier 2 help desk: main characteristics and typical tasks
Tier 2 help desk specialists have more technical knowledge of the company's product or service than specialists working with tier 1 inquiries. Some common tasks at tier 2 help desk include resolving software configuration issues, software and hardware interoperability issues, account administration, services restart, etc.
When a support ticket comes to a level 2 technician, firstly, they review the issue, the amount and nature of support provided at level 1, if any. Then, the level 2 specialist communicates with a user for a more detailed analysis of the problem before providing a necessary solution. If the tier 2 help desk specialist cannot fix the issue, it is escalated to level 3 for detailed research on the code level.
To address level 2 issues effectively, we recommend implementing help desk software to provide the full picture of submitted issues and automate the resolution process.
Outsourcing tier 2 help desk: benefits and best practices
If you don't have in-house support specialists experienced enough to solve level 2 support tasks and you are not ready to hire new personnel for the task, you can outsource it to a third party with the needed expertise. By outsourcing tier 2 help desk, you save efforts dedicated to hiring and training in-house staff. Moreover, you will save money on implementing fitting help desk software to automate repetitive tier 2 help desk tasks and analyze process effectiveness and agents' performance.
Hiring an experienced third party means that your tier 2 help desk can be available 24/7/365 to address your employees' and customers' issues. That, in turn, will contribute to the improved productivity of your employees and the increased customer satisfaction. Below we list several tips to minimize outsourcing risks.
Tip 1. Agree on a set of KPIs to make your cooperation with a vendor transparent and measurable.
Key tier 2 help desk metrics include:
Customer Satisfaction Rate – for the external help desk to understand whether your customers are satisfied with how their issues are resolved.
Employee Satisfaction Rate – for the internal help desk to get insights on how well outsourced tier 2 help desk specialists solve incoming employees' issues.
Resolution Rate – to get the percentage of issues resolved by the outsourced tier 2 help desk agents from the total number of tickets received.
Tip 2. Make sure your vendor provides you with documented operating procedures, for example, SOPs (standard operating procedures) for change, incident, risk management, and reporting.
Thus, you will be able to control the quality of service your tier 2 help desk vendor provides. Besides, this way, your vendor ensures knowledge transfer, which helps you avoid vendor lock-in.
Your next move in establishing effective tier 2 help desk
Managing tier 2 help desk for employees or customers requires well-trained and always available staff, established support processes, and dedicated software. Outsourcing tier 2 help desk can help you fulfill these prerequisites while retaining sufficient control over tier 2 help desk operations. If you'd like to entrust your company's tier 2 help desk support to a reliable service provider, feel free to reach out to ScienceSoft's team.
With 12 years in application support, we offer multi-tiered IT support for your enterprise applications or your software products and their users with minimum involvement from your side.