Editor's note: Veranika outlines the specifics of tier 1 help desk and explains the benefits of outsourcing this support level. If you are planning to establish tier 1 help desk in your company, feel free to consider ScienceSoft's help desk outsourcing services.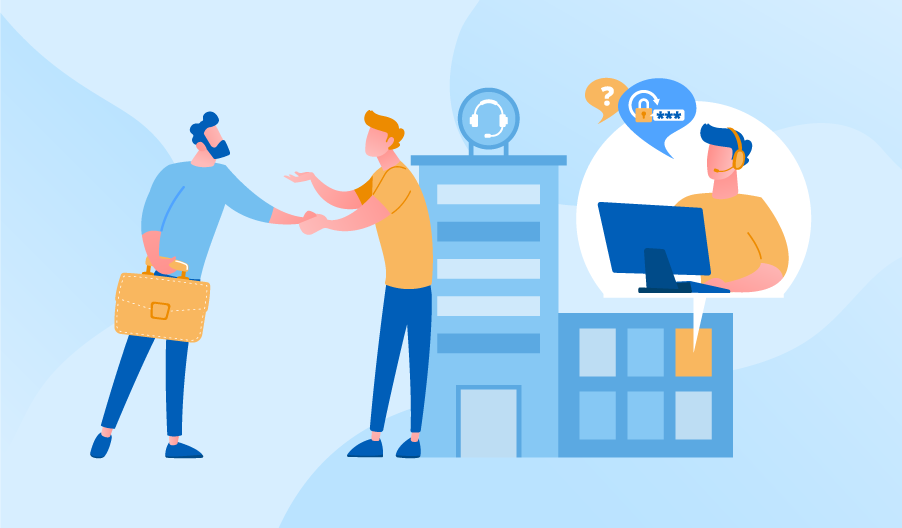 There are two major types of tier 1 help desk. Internal tier 1 help desk deals with simple issues concerning employees' work (e.g., password resets), contributing to the improvement of work efficiency. External, or customer-facing, tier 1 help desk, manages incoming customer questions and inquiries concerning your products or services. If the resolution of an incoming issue does not require deep technical expertise (e.g., basic product usage instructions, frequently asked questions about a product or service), the issue is fixed right at this level. In case a deeper technical involvement is needed to resolve the issue, it is escalated to the next help desk level. The quality of help desk support your customers receive is as important for them as the quality of products they buy. 85% of the customers are ready to spend more on your products if they receive high-quality help desk support.
Tier 1 help desk specialists deal with basic issues that your employees or customers face. Thus, agents need to have a general understanding of the product or service without the technical expertise needed to resolve complex issues.
The most typical issues that tier 1 help desk specialists work with include:
Password reset.
Account lock/unlock.
Providing information on your product/service benefits.
Product/service availability.
Payment and shipment issues, etc.
Both internal and customer-facing tier 1 help desk agents greatly contribute to your company's image, so they need to possess excellent problem-solving and communication skills.
For agents to successfully deal with common employee or customer issues, your help desk managers should create detailed scripts for them to follow step-by-step. If your agents cannot resolve the issue, they should be able to escalate it to tier 2 specialists smoothly.
There are two options to consider when establishing tier 1 help desk: keep it in-house or outsource it. Each one has its benefits in application, depending on your specific situation.
Establishing in-house tier 1 help desk means your agents will fully know your business specifics, your product/service (in case you set up customer-facing help desk), and work closely with other members of your team. Moreover, you will have full control over in-house agents and their actions. On the downside, building and training a professional help desk team takes time. You'll need to find experienced agents, onboard them, and ensure their regular training.
Outsourcing tier 1 help desk eliminates the need to recruit, onboard, and train help desk agents. Outsourced tier 1 help desk can be available 24/7, 365 days a year, to handle your employees' or clients' urgent issues. Moreover, outsourced tier 1 help desk can reduce the time and investments required for introducing help desk software.
Establish productive tier 1 help desk
Handling customers' or employees' issues quickly and efficiently can be time- and effort-consuming for an in-house team. If you want to skip the burden of help desk support and focus on more critical questions, feel free to reach out to ScienceSoft's team.
With 12 years in application support, we offer multi-tiered IT support for your enterprise applications or your software products and their users with minimum involvement from your side.