Editor's note: Alena explains the benefits of telemedicine and outlines the key features of telemedicine software that can help provide high-quality virtual primary care. If you consider implementing telemedicine technology, check ScienceSoft's offering in telemedicine apps development.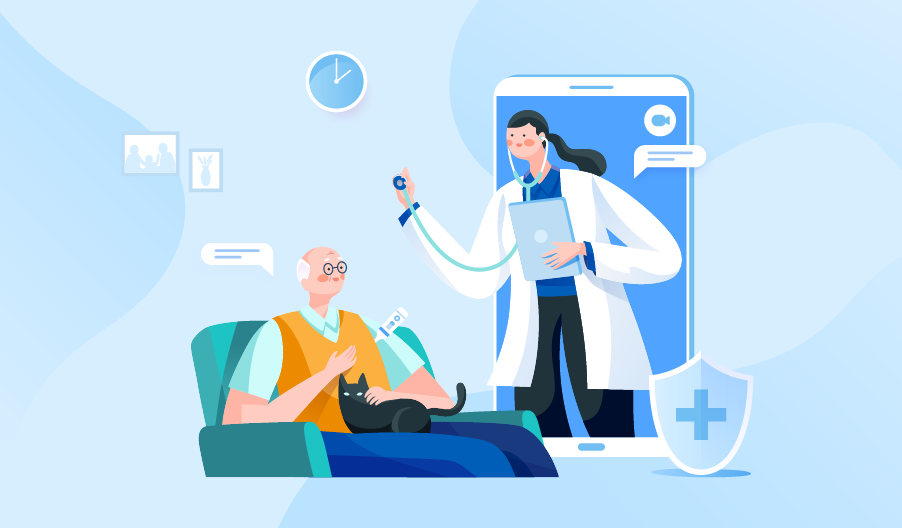 Primary care in-person visits plummeted as nearly 50% of consumers avoided seeking care from a primary care provider for at least a year, Forrester writes in October 2020. And the number of virtual primary care visits increased 35 times by the second quarter of 2020.
Virtual primary care involves continuous or one-time healthcare services delivered by a medical provider (mainly, a general practitioner) to patients without emergency conditions via telemedicine technologies. Telehealth apps facilitate remote patient-doctor communication via video, audio or instant messaging. Here you can see an example of how a patient-centered mobile app works.
First-time appointments
Today, it's especially relevant for patients with COVID-19 symptoms including patients tested COVID-19-positive whose health conditions don't require hospitalization. The doctor's initial consultation can be conducted virtually, using audiovisual technologies.
Uncomplicated cases
Telemedicine is well suited for the treatment of mild colds, allergies without complications, indigestion or minor injuries. It's enough for a patient to open a mobile app, find the nearest appointment in the schedule of available therapists, book it, and the doctor will contact them via online videoconferencing on the selected day.
Early symptom detection and disease diagnosis
Besides enabling e-visits, a telemedicine app can be used for real-time patient condition monitoring with the help of wearable biosensors that collect data on vitals (blood pressure, glucose, heart rate, etc.) and send it to the doctor's app. The doctor-facing app displays the data collected by a patient's wearable biosensors in real time. This allows doctors to detect early signs of diseases in time and control the disease progression. Check an example of a telehealth app with remote patient monitoring capabilities in action.
HIPAA-compliance
Many standalone video conferencing tools on the market can be quickly deployed, but very few are qualified for medical use. Due to the exchange of confidential patient information, telemedicine software should comply with the Health Insurance Portability and Accountability Act (HIPAA).
EHR integration
The automated transfer of telemedicine app data (e.g., the patient's condition, changes in the treatment or prescribed medications) to EHR relieves doctors from manual data entry, thus saving time and minimizing the possibility of error.
Full patient and healthcare provider support
The users of a telemedicine solution need to be able to receive tailored support from a solution provider — from getting answers to simple questions about the app's use to troubleshooting on a code level.
Patient eligibility check
If telemedicine software can screen a patient for eligibility for telemedicine services, potential reimbursement difficulties will be minimized.
Increasing patient satisfaction
Patients who try to maintain self-isolation due to the COVID-19 pandemic will gladly take the opportunity to avoid in-person doctor visits for preliminary diagnosis with the help of telemedicine technology. For example, patients with a minor health issue, for example, a rash, don't have to waste time in lines by getting a quick consultation via videoconferencing or chat.
Cost savings for both healthcare providers and patients
Telemedicine technology helps patients to pay less compared to clinic visits (one-time net cost savings for a patient ranges from $19 to $121). Healthcare providers, in turn, can avoid the costs associated with missed appointments and spend less physician's time per visit.
Considering the benefits of telemedicine apps for primary care like facilitated preventive care, time and money savings, and the growing demand, it may be the right time to invest in telemedicine software. If you need professional assistance in any aspect of introducing telemedicine technology into your primary care services, you are welcome to turn to ScienceSoft's healthcare IT consultants.
Get Consulted
Not Sure What Functionality Will Benefit Your Telemedicine App?
ScienceSoft's healthcare IT experts will consult you on developing a high-quality telehealth solution with the feature set just right for your healthcare organization.