Editor's note: Not sure whether telehealth mental care services are viable and will be in demand? In the article, Natallia explains why telemental health services keep gaining popularity and how mental health providers and patients can benefit from it. And if you get inspired to have a telemedicine app for providing mental health services, you are welcome to consider ScienceSoft's offer in telemedicine app development.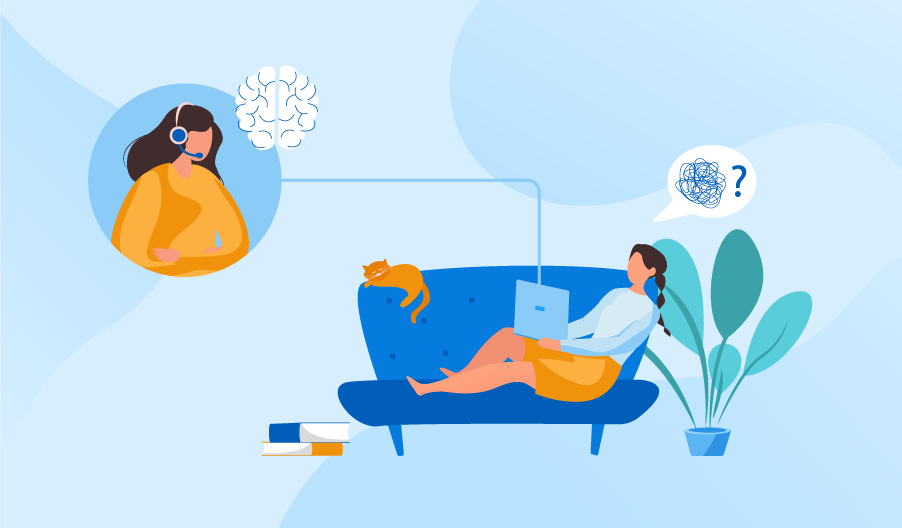 According to the National Survey, almost 20% of adult Americans (47.6 million) experienced mental health problems in 2018, but only 43.3% (20.6 million) of them received mental health services. Among obvious reasons for that are the lack of mental health professionals in rural areas, which leads to poor access to treatment for patients with behavioral health and emotional disorders. Moreover, naturally, patients experiencing mental health problems are often uncomfortable to visit a care facility and discuss their problems face-to-face. To my mind, the use of the telemedicine technology to provide mental health services is one of the most effective measures to solve these problems.
Luckily, this technology is on the rise. As statistics say, the US telemedicine market was estimated at $17 billion in 2019, with CAGR (Compound Annual Growth Rate) of nearly 36% from 2018. Let's see how telemedicine can become an effective solution to delivering accessible and quality mental health services.
As regards core functionality, telepsychiatry solutions are similar to general telemedicine applications, including real-time video- and audioconferencing, medication management, 24/7 chat with a doctor, prescription refilling/renewal, etc. A telehealth app can be an indispensable tool to organize remote patient and medication intake monitoring and increase engagement of patients in their treatment. My colleague Alena Nikuliak provides more details about telemedicine solutions in this article.
Still, telemental apps' functionality is adapted to suit the needs of mental health professionals and patients specifically. For example, with live videoconferencing capabilities, mental health care providers can hold behavioral therapy sessions for their patients, carry out patient condition assessment or group therapies.
Telemedicine improves mental health services accessibility
According to American Well's Telehealth Index: 2019 Physician Survey, 77% of physicians who have already used telehealth technology note that telemedicine solutions contribute to more efficient use of time for doctors and patients. For care providers, it means the increased efficiency of work, since e-visits take less time, and evenly distributed workload among mental care specialists in a particular area. As for patients, they can get the necessary mental health care remotely, which is especially convenient for patients who live in distant areas or for disabled people.
Telemedicine guarantees more comfortable conditions for patients with mental health problems
As our customers' experience shows, people with mental health illnesses feel more comfortable to talk about their problems with doctors remotely, especially during first visits.
Moreover, people with possible mental health disorders may avoid in-person help for fear to fully admit their problems or because they don't find conventional mental health care services confidential enough, or feel ashamed. Since telemedicine allows receiving behavioral health services remotely, patients can be sure of almost complete confidentiality and can get treatment a place they consider psychologically secure.
Telemedicine improves mental health treatment outcomes
The functionality of a telehealth application allows bringing the treatment process to a higher level. As my customers' experience shows, constant monitoring of patients and online control over drug intake with the help of telemedicine technology increase the chances of a successful outcome of treatment. Moreover, using technology, patients may feel more enthusiastic about their treatment process and trust their psychiatrists more, which certainly has a positive effect on treatment results.
Of course, personal meetings with a psychiatrist are very important and can't be fully omitted. Therefore, telepsychiatry needs to complement the ordinary treatment process, which will lead to optimal results.
Currently, all US states have some form of reimbursement for mental health services, but policies for telemental care vary from state to state. You can visit the Center for Connected Health Policy to learn about your state's policies.
With the continuous growth of telehealth demand and more telehealth solutions for mental care appearing on the market, it may be the right to invest in the creation of a telemedicine solution for mental health care. If you feel interested in the opportunity, you're welcome to turn to ScienceSoft's healthcare IT team to develop your high-quality telemedicine solution.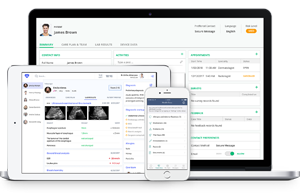 Looking for a solution to your healthcare IT challenge? Our experienced healthcare consultants are here to help.