Editor's note: Andy relies on ScienceSoft's experience in migration projects to share with you the best practices of a smooth transfer of your company's applications to the cloud. If you need help in the cloud migration of your legacy applications, look through ScienceSoft's application modernization offer.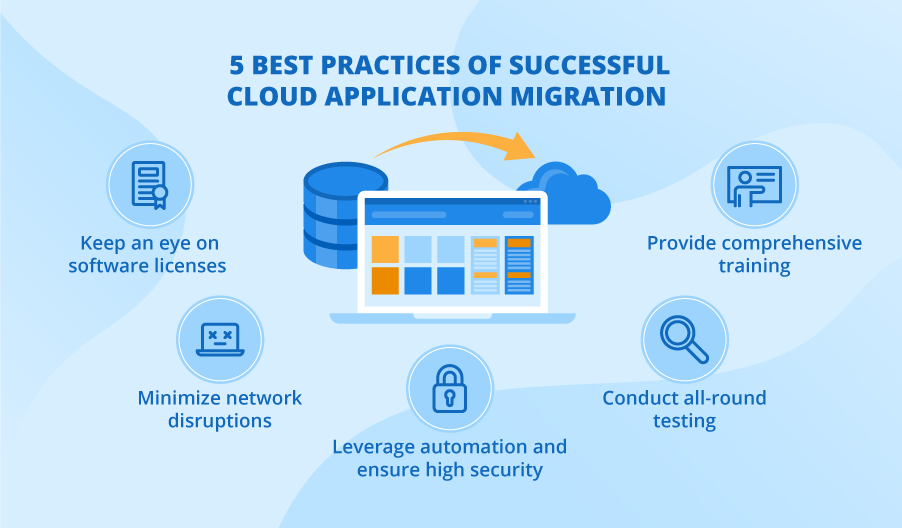 I still see that many companies are wary of moving their applications to the cloud despite such obvious cloud deployment benefits as app scalability, flexibility, reduced maintenance costs, increased efficiency and security. The main reason for it is that conducting smooth and faultless migration is quite a challenging task.
According to the statistics, 42% of businesses experience migration failure and face application downtimes, data breaches, and other problems. In this article, I share application migration best practices to help companies avoid migration-related problems.
I recommend you look through the licensing rules of your application before planning its migration to check whether the licenses you already have are suitable to use in the cloud environment or you need to update or renegotiate them. Also, you may need to change your licensing model to optimize your cloud maintenance costs as cloud license management gets complicated when the resources are added and removed.
Cloud migration essentially increases the load on your network as huge volumes of data need to be transferred, which can lead to slowdowns and disruptions. To avoid possible network downtimes, I suggest you choose cloud providers that offer ways to connect to the cloud infrastructure without overloading your network. Among leading cloud providers, AWS offers a dedicated network connection to its infrastructure, and Azure provides a special service that connects to a company's network. For example, we moved the customer's infrastructure running on 20 dedicated servers to AWS, avoiding any downtime.
Automation facilitates migration, reducing its time, ensuring its consistency and safety as well as helps avoid service disruption. So, I recommend you automate as many processes as possible during migration, for example, application delivery.
To avoid data breaches and losses during the migration process, you should implement multilevel security protection and provide for data backups.
Application migration is not just its data export. The process can often lead to bugs appearing in the migrated application. Also, you should check the quality of the application before migration to avoid the risk of old bugs re-emerging after migration. So, I recommend you perform both extensive pre-migration and post-migration testing to ensure the application's functionality, reliability and security.
Application migration success largely depends on user adoption. I recommend you to arrange a series of training sessions that will help employees learn how to use the upgraded application effectively and increase their performance.
Entrust application migration to professionals
Whether cloud migration will be successful or not strongly depends on the expertise of migration performers. If you doubt your in-house IT team has relevant knowledge and skills to ensure quick, smooth and reliable migration, you are welcome to reach out to ScienceSoft's experts who are always ready to help.
View our offering
Application management services by ScienceSoft
Keep your applications healthy in a rational way with the help of ScienceSoft's team.